We are pleased to announced Act 2 Entertainment's New Cabaret Season for 2018. It is filled with all new drag shows from all your favorite cabaret performers.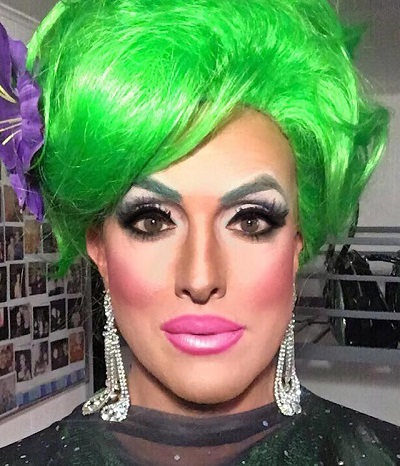 From November until May 2019 see Mama Tits' new show Triple D. After her second record-breaking year as one of the Top Headliners of the Red Room Cabaret at Act II Stages, Mama Tits is thrilled to return for her fourth hit season! This year she is back with her raw and witty take on life, sex, relationships and living your truth.
From November until April 2019, Hedda Lettuce's starts her new show Gringa in Paradise. The six-time Drag Queen of the Year Award-winner (HX magazine) and the legendary "green goddess" of drag is excited to return to Puerto Vallarta for her fourth "sold out" season! Hedda Lettuce is one of New York City's premiere drag queens and keeps the audience screaming with laughter for the entire show!
From November 13, 2018 until January 31, 2019, Steve Grand "All American Boy" returns triumphantly to the Red Room for a 3-month run, after his extremely successful string of shows last season! 100% of his shows were sold out!
In December 2018 catch Jai Rodriguez, singer/actor/Emmy Winner from Bravo Network's "Queer Eye for the Straight Guy." His new show, "Jai Times" is an R-rated "Glee" version of his life.
From January 2019 until April 2019 Puerto Vallarta's comedic duo, The Dueling Drag Divas, return to the Red Room with an All-NEW 2019 LIVE show! JoAnna (aka Joe Perry) and Emmy Award Winner, ChiChi Rones, sing hysterical spoofs of Cher, Tina Turner, Marilyn Monroe, Shirley Bassey, Amy Winehouse, Janis Joplin, Lady Gaga and more!
From January 2019 until April 2019, Sutton Lee Seymour's new show Drag Flix, is a new comedy spoofing your favorite TV Shows, Movies, and Musicals with parodies of Game of Thrones, The Handmaid's Tale, Harry Potter, and more! Sutton Lee Seymour, known as "the Robin Williams of Drag," is New York City's Live Singing Comedy Queen of Stage and Screen.
In February 2019 get ready for Levi Kreis' new show Oh Canada. Tony-Award Winning Levi Kreis returns to Act II Stages for his third unprecedented, back-to-back, sell-out runs at Act II! His show this year is about the special history he has had with many Canadian musical icons as he adds some of his own special flavor to many of their greatest hits!
In February 2019 don't miss Debby Holiday's show Queens of Rock ! Hear the songs of Tina Turner, Bette Midler, David Bowie, Queen, Janis Joplin & more… the voices and personalities that shaped her songwriting from childhood to current day.
In March 2019 The Kinsey Sicks America's Favorite Dragapella® Beautyshop Quartet celebrate their 25th anniversary at Act II with this hilarious world-premiere show! This new show will mark the final Puerto Vallarta run of Benjamin Schatz, founding member of The Kinsey Sicks, who originated the role of Rachel. While Schatz will continue his involvement with the group by contributing new material and occasional guest performances, a new cast member will join the group later in 2019.
Looking for new performers and shows at The Red Room Cabaret?
In December 2018, A new country-western musical drag show "She Haw" featuring internationally-celebrated star, Delighted Tobehere. International drag star and "Southern Belle," Delighted Tobehere, will rip the shower curtain off and leave nothing to the imagination as she reveals ALL of drag's best kept secrets! She'll pull from her more than 16 years of experience to give you a behind-the-scenes look at the world of drag, country-western style!
In January 2019, "Divariety" featuring World-Famous Drag Divas, Gigi Monroe and Delighted Tobehere! With 30 years of combined stage experience, Gigi Monroe and Delighted Tobehere have teamed up to present "Divariety," an unforgettable night of drag comedy, singing and celebrity illusion!