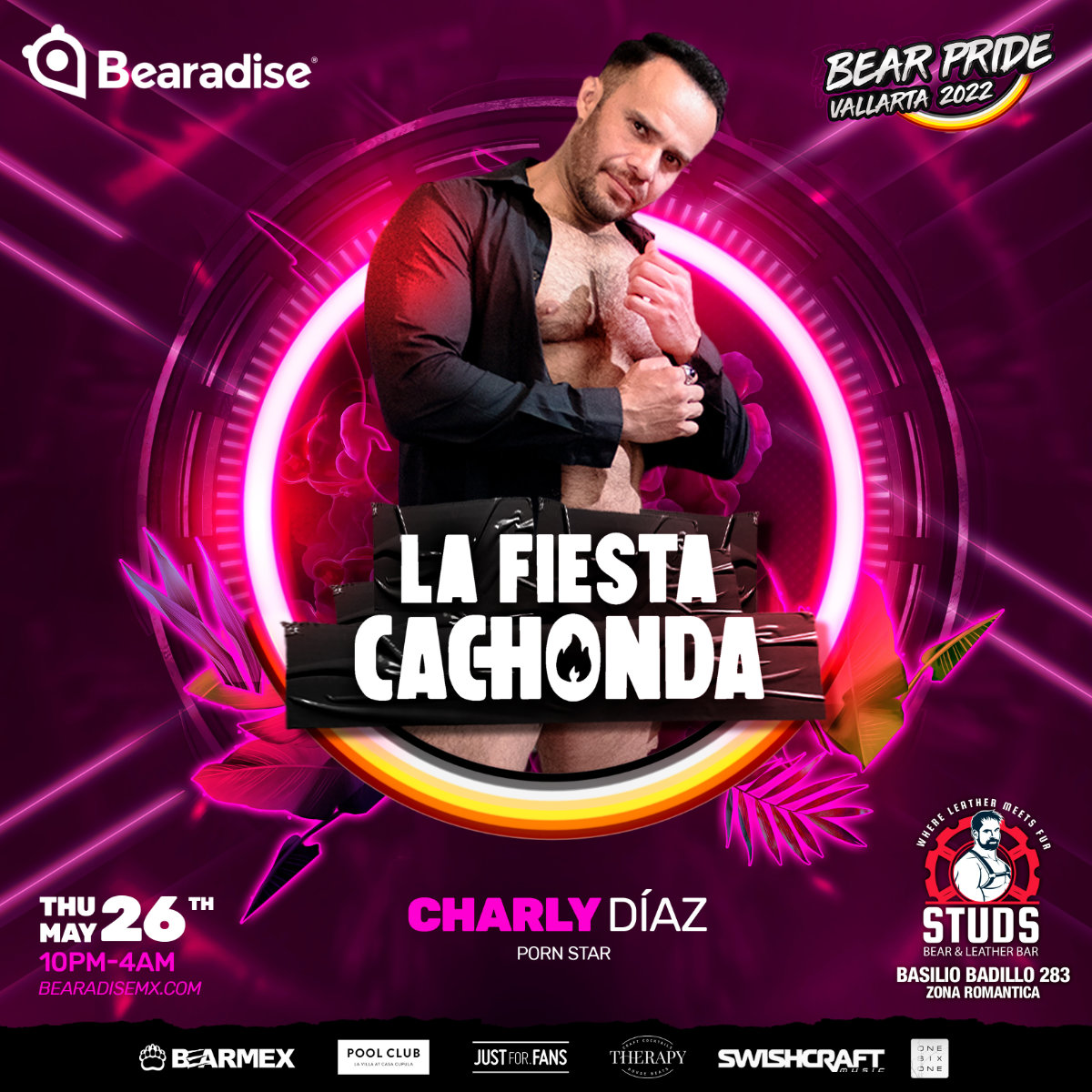 Bearadise keeps pulling out all the stops to bring the very best celebrity talent in the world of adult entertainment for BEAR PRIDE in Puerto Vallarta. Announcing the return of Rocco Steele and the addition of super sexy Charly Diaz, hecho en México, to the amazing talent for BEAR PRIDE 2022.
"Between the Pool Parties  at The Pool Club at Casa Cupula during the day, the parties at STUDS, the new bear bar everybody's waiting to open, at night, and ending the week at Bearadise Beach, we are going to have some of the hottest sexiest men working in the gay adult bear entertainment industry during BEAR Pride," says Christian.
"We can make your fantasy of meeting a legendary porn star come true," shares Christian Serrano, Bearadise Owner & Producer. "I could not be happier that Rocco joins Bearadise as the 2022 BEAR PRIDE ambassador and as always, brings every inch of his specialness to Bearadise events."
Rocco sweeps into Vallarta and BEAR PRIDE has him. He kicks off the celebrations as the Grand Marshall on the BEAR PRIDE Party Bus on Thursday, May 26th. Enjoy a taste of Living the Bearadise Life through heart-pumping music, physical freedom, and more close and furry fun than you can handle.
If you like the sexy dance club vibe that Vallarta is famous for and love your gear and fetish, then the nighttime parties at STUDS are for you. "We are breaking in STUDS, the new bear bar in the Zona Romantica," adds Christian. "We've got so many 'firsts' during BEAR PRIDE this year. We're excited to share the love with our Bearadise followers. We've designed daytime and nighttime opportunities for our hermanos osos to create lifelong memories of meeting their favorite porn stars, celebrities, and DJs."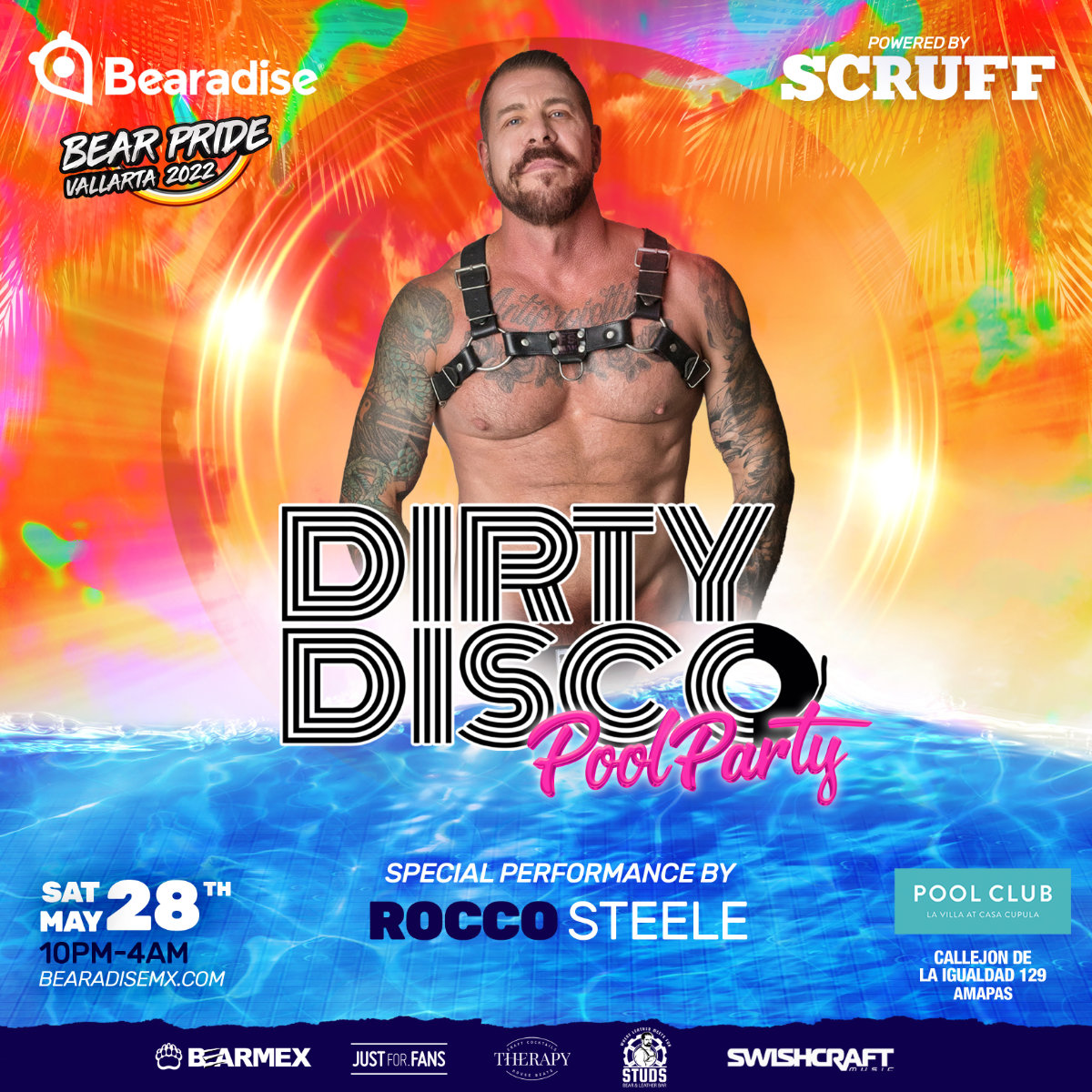 Rocco continues the week and headlines not one, but two "FOR-THE-FIRST-TIME-IN-MEXICO" events. Check him out on Friday, May 27th at STUDS, the new bear and leather bar in Puerto Vallarta. Who else but The King of All Daddies can give a special performance as Billboard #1 Producer DJ Matt Consola premieres DADDY ISSUES at STUDS.
"I am beyond excited that BEAR PRIDE will also have the one-and-only Charly Diaz joining the sexy roster of gay porn stars all in one place in Vallarta," shares Christian Serrano, Bearadise Owner and Producer.
"Some of my pack have told me about Bearadise this and Bearadise that. I liked what I heard about the project. When I was approached to join mis hermanos osos in Vallarta for BEAR Pride, how could I say no?" added Charly. "More and more bear action goes to Vallarta every year, and I want to be a part of it!"
Also joining us this is is Billboard #1 Charting DJ Matt Consola, the international DJ Chris Stutz, the Infamous DJ Mud, local favorite DJ Leo, Javi Mr Bearmex 2021, Georgie Master Leather 2021, and Bobby the MC, all of them exclusively at BEAR Pride presented by Bearadise from May 25th to May 29th in Puerto Vallarta, the #1 bear destination in Latin America!
Visit www.bearadisemx.com to take advantage of early-bear discount pricing on exclusive Bearadise® events for BEAR PRIDE in Puerto Vallarta, May 25th to May 29th!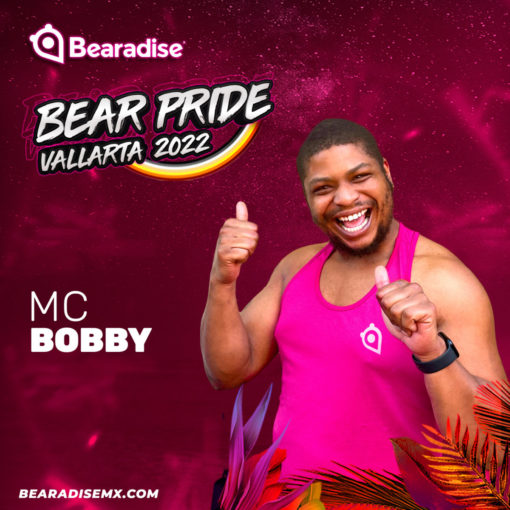 ———–
The views and opinions expressed in this post are those of the authors and do not necessarily reflect the official policy or position of GayPV.com Any content provided by our bloggers or authors are that of their opinion.