Puerto Vallarta is becoming a new symbol of lgbt tourism in Mexico. Gay Puerto Vallarta: The New Mecca. International trendy and chic visitors have long known Puerto Vallarta Romantic Zone's charm and natural beauty. Once an undesirable place to live, the Romantic Zone has been transformed into a thriving community of hotels, condos, restaurants, bars, and shops.
Many people exaggerate about a destination being super gay only once it is visited discover it really is not. Mister BnB just produced an article about how gay friendly Tel Aviv is so we used the same criteria to produce our answer to just how gay Puerto Vallarta, Mexico is. The destination has been known as a gay mecca since the 1980's and until recently Puerto Vallarta's tourist season was very limited *the busiest months from November until Easter. Recently, Puerto Vallarta has been moving toward a year round busy season and its increasing appeal to LGBT travels and residents is due to several factors. Among them are increased national airline flights into Puerto Vallarta, a rising Mexican middle class traveling more, and increased marketing and awareness of Puerto Vallarta as an LGBT destination.
Why the popularity of Puerto Vallarta, Mexico among the LGBT travelers?
1. Puerto Vallarta has the most well developed gay nightlife in Mexico! The first gay bar opened more than 20 years ago and today more than 25 gay bars and clubs are operating *some until 6 am, each unique and all located in the gayborhood.
2. Puerto Vallarta has a true Gay Zone. The Zona Romantica is a true gayborhood with all the gay bars, clubs, businesses, restaurants, and gay hotels within a safe walking distance of each other. With some rare exceptions, you never have to leave the gayborhood for anything!
3. Puerto Vallarta is for foodies! There is something for every culinary appetite and budget, from street taco stands to fine dining and everything in between.
4. Puerto Vallarta has an amazing arts and culture scene including the best gay cabaret scene in Mexico! We have three great cabaret venues producing two shows 7 nights a week from November until May…with 2 of them open year round. Also we have numerous great art galleries and artists exhibiting and living in town. Mix in festive Mexican culture and rich traditions for an amazing treat for everyone.
5. Puerto Vallarta has warm, sunny weather almost year round surrounded by mountains, jungles and a gay beach stretching from the world famous Blue Chairs Gay Hotel to Mantamar Beach Club. The cruising spot during the day is the world famous local gathering spot for socializing and sunbathing.
6. Puerto Vallarta has fantastic LGBT accomodations. There are rooms catering to the LGBT market are smaller luxury boutique gay hotels like Casa Cupula, quaint bed and breakfasts (Pinata PV Hotel), and luxury condo developments and villas(Villa Enrique.)
7. Puerto Vallarta has countless LGBT tours and activities to keep you out of trouble. This city features several popular gay boat cruises (Wet and Wild), luxury yacht charters, a gay bar tour, zipline and atv tours catering to the LGBT traveler, interesting food tours, Botanical gardens, a nice size zoo, plus many more. Plenty of reasons to stay out of trouble day or night
The Director of Tourism Carlos Gerard Guzman has a mission to increase tourism in Puerto Vallarta which experienced a sharp decrease in 2009 with the H1N1 influenza scare and the increase of drug cartel violence in the border towns. Although Vallarta had a mere 4 cases of H1N1 and no cartel violence, the impact was devastating to the tourism industry here. The result was many businesses and jobs were lost during the last three years.
However, in 2012, tourism began to improve in part because people realized there was nothing to fear in Vallarta. When visitors returned, they saw the huge infrastructure investment projects which included the new Los Muertos pier and the new Malecon renovation. The sidewalks in Zona Romantica were widened during this period providing a more cafe style seating. 2012 bought 3.7 million visitors to Puerto Vallarta and that number increased by 5% in 2013. As stated earlier, the international crowd which flocks to Vallarta makes up 40% of the tourists.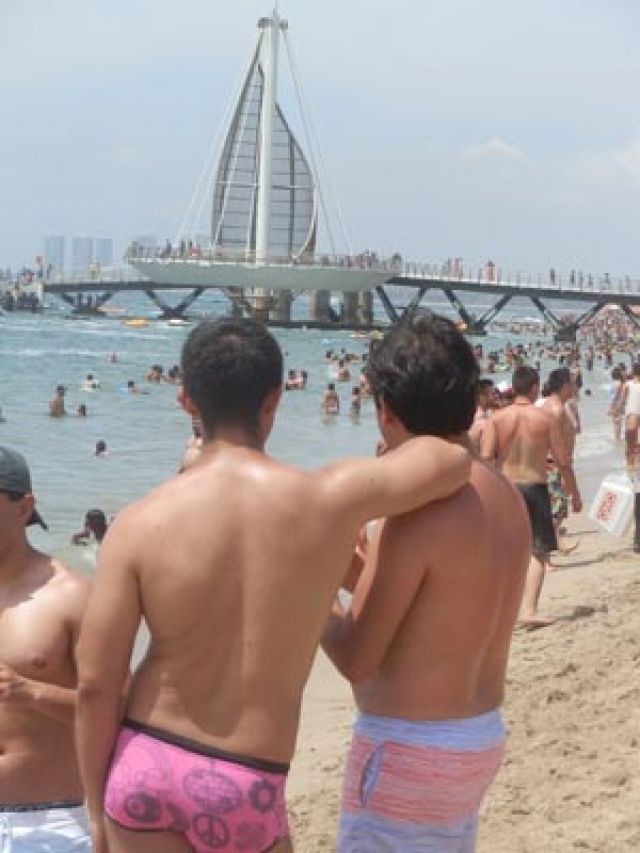 International hip tourists have realized that besides the refurbished hotels, there are a number of luxury condos available for rent, giving chic international and national travelers a full range of accommodations. In fact, if you check PVRPV and Palmera Vacations web sites, a visitor will see over 500 top-end properties available for rent with 70% located in Zona Romantica. Most are two bedrooms, which when shared between four people costs an average of 267 pesos per night.
Making Puerto Vallarta a luxury vacation paradise very affordable to most international and national visitors. With 17 gay bars, 3-night clubs, 3 gay boat tour companies, 5 gay hotels, 80 restaurants, and even a bar-hopping tour, Zona Romantica has the greatest diversity of gay activities worldwide.
Besides being situated in a real Mexican neighborhood, Vallarta is uniquely amazing as there are only 18 days annually without warm sunny weather. Every other gay mecca has a season. Puerto Vallarta does not.
An exciting new development in Zona Romantica is the Almar Resort. This 5-star luxury complex scheduled to take guests by January 2015 is raising the standard higher for comfort and luxury on the gay beach. Their Mantamar beach club is already open, serving food from the famous chief Thierry Blouet of Café des Artistes and receiving rave reviews from their guests.
Of course, the most important part of any community is the people. Vallarta has a world-wide reputation of having extremely friendly and the most welcoming people. The warmth and smiles of the inhabitants of this Mexican enclave have won the hearts worldwide and account for so many people returning year after year. Once you catch the Vallarta fever, you will long to return or never leave. The expat community last counted was 30,000 and growing daily.
This is why the Vallarta Pride Committee and ACT LGBT AC (the gay business association) are so excited to welcome international and national visitors to our 5 day Vallarta Pride event which will highlight the gay community which so many lovingly call home.