Idan Matalon Talks Vallarta Heat 2020 Puerto Vallarta. Idan tell us what is the main concept of the Vallarta Heat Party?
VALLARTA HEAT FESTIVAL is the first edition of an electronic music festival located at Puerto Vallarta. This festival is created and produced by: Eliad Cohen, Idan Matalon (pictured above 2nd on the right), Almar Resort & Mantamar Beach Club and Industry Night Club PV. The 3-day Festival will have 7 parties and 15 International DJs from all over the world, special performances, Shangela's amazing show (from Rupaul's drag race). VALLARTA HEAT combines the best house music with a beach oasis atmosphere, luxury and VIP services. All info and tickets to book here: VallartaHeat.com
Idan, what will you bring to the party?
Many people (mostly latinos) know me as a video blogger and lgbt activist. The true is that since my childhood I was a huge fan of the latin culture, and all my career and social media content based on my passion and love to latin culture and music. As an Israeli who lived in Mexico city, Puerto Vallarta and Los Angeles, who traveled all over the world mainly for lgbt activism and events, I feel that I have here (together with my partners) an opportunity to unite the gay community and make something really special at Vallarta Heat. I'll host the Festival together with Eliad Cohen and our special influencers-guests that will arrive from the US, Colombia, Mexico, Miami, Spain, London & Israel and more countries.
How will Vallarta Heat be different than other parties in Vallarta?
Since the digital revolution (dating apps and social media platforms) the gay community has become more and more divided and we can see (together with good things that happened) negative changes when it comes to real connections between people. We want to gather all the gay groups together: Drag queens, circuit boys, bears, pop lovers. NO RULES in our festival, express yourself as you wish: in drag, shirtless, neon colors, or just YOU. It's the first time ever that we're gathering so many different influencers in one Festival, in the perfect ambient of Mantamar in PV. a real international gay festival with the mexican vibe which we all adore!
Why/How did you decide to become involved in this party?
For me, it was very natural to be involved for many reasons: PV is my second home in earth (after Tel Aviv), Eliad Cohen is my friend and viral-content-partner in the last 9 years (since we both lived in Tel Aviv) and for us it's an opportunity to become partners and maximise our crazy abilities to do something big. Also, my biggest country of followers is Mexico, and I want to keep doing projects in this amazing country (again, my 2nd home), and of course: I'm a huge fan of Mantamar.
Why was Puerto Vallarta chosen as the location for the event?
Eliad and I believe (after experiencing and visiting so many places around the globe) that Puerto Vallarta is THE BEST LOCATION for the gay community to visit: the combination of the beach, the city vibe, walkable city, mexican culture, the people of PV are so open minded and welcoming, you can truly be yourself, kiss your boyfriend in the middle of the street without any 2nd thought, the green mountains – it's a real paradise for the LGBT community. I discovered Vallarta only at 2015 when I was invited to be the grand marshal of Vallarta Pride 2016, I NEVER heard about Vallarta before, and was literally having the best time of my life being there for 10 days. I also lived in PV for 6 months during 2017. The combination of zona romantica and Mantamar beach club is just a big WOW effect for me and for many visitors. I cannot explain in words the vibe and excitement that I feel when I'm sitting in the cabine of Mantamar watching the pool-beach-ocean at the same time, real paradise. I can talk about PV for hours, but I think you got my point :)
The Papa Party is the main event. This will be the first time there is a Papa Party in Puerto Vallarta. Has there been other Papa Parties in Mexico?
Eliad Cohen did many Papa parties all over Mexico: from Mexico City, Tulum, Cancún , playa del Carmen, Monterey, Guadalajara and it was about time to come to Puerto Vallarta with Papa party and do a big party in the best club in town – Industry together with Vallarta heat festival. He's certainly looking forward to it.
What music and sound should everyone expect from these parties?
Very uplifting music with vocals and the best beat as we always have in a Papa party.
Are there any other special performers coming?
YES! We are very excited to have on board the one and only : SHANGELA with special performance (you're going to experience very high energy while Shangela is on the stage),
Eliad Cohen is going to perform and make everyone sweat.
I'll perform with my new song "Me vale"
Also LA MAS DRAGA will be on the stage : Yari, Alexis, and Deborah, together with the new drag
winner of 2020. And…we're having a special singer from PERU – Alexis Descalzo, I'm sure people gonna love his songs, and he is so hot. Pictured below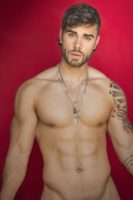 What events will Diego Barros be doing?

Diego (pictured above) is our special influencer guest together with other big influencers we're having. He won't have an actual show, we just want him to have a good time, but let's be honest – this appearance during the parties is already A SHOW.
Will this be an annual party and the same time every year?
Definately YES!
Idan, what are your favorite things to do in Puerto Vallarta?
I really like Mantamar, the gay streets with all the bars, walking in the malecon, or next to the river, I love the shopping mall "La Isla", all the coffee places (really my style) , the village-vibe but at the same time a city – when you greeting people in the street, real happiness.
How does Puerto Vallarta compare to Europe as a major gay destination and a place for
gay circuit parties?
You can feel in europe gay festivals that it's all divided in gay groups: party only for circuit gays, or only for bears, or only for pop lovers. You need to travel with taxi all day to get to the party/your hotel/food. In PV everything is walkable and so close, you feel like you're in a bubble – amazing bubble, and you don't need to decide in which group of party you are – it doesn't matter in vallarta, just be you, and enjoy it.
What is new and upcoming with you?
Right now I'm obviously focusing in making Vallarta Heat a big success together with my partners. I also have a new song "Me Vale" and planning to shoot a video clip, I'm excited since it's the first time I'll have my own music video. I'm also planning new strategy of social media content, it's important to keep being creative and to influence my followers by make them smile and inspire them.
What are your favorite events to attend?
Tel Aviv gay pride week is WOW, I also love Mexico city pride and hopefully I'll take part of it during 2020.
Will there be any LGBTQ charities benefitting from Vallarta Heat?
We're definitely considering it. Since it's the first year we're dealing with a lot of things and building new culture and concepts, and we are more then happy to collab.
Thank you very much GAYPV and looking forward to seeing everyone at Vallarta Heat 2020!