Are you looking for the Best Gay Gym Puerto Vallarta? We are going to give you the ultimate guide for all the gyms located in the gay zone. So if you are on vacation staying at a gay hotel or vacation rental in the gayborhood, you could reach these gyms relatively easily. Some handy tips to know when you are looking for gyms are location, do they have air-conditioning (as PV in the summer can be very hot and humid for a work-out without it), do they charge a membership fee, bi-lingual staff, and do you need a trainer? Another tip: Be sure to check many of the new puerto vallarta condos for sale as some have their own private gyms, not open to the public. The information in this guide is accurate at the time of publishing but always check the specific gym for the latest updates, including COVID-19 procedures affecting current rules and policies.
Pump Gym at Casa Cupula LGBT Hotel Callejon de la Igualdad #129 The ultimate air-conditioned luxury gym in Puerto Vallarta, with everything you need for a productive workout, including free weights, cardio equipment, and multi-station machines. This gym is walkable from most of the gay zone. Some parking is available if you have a car. Contact them for Local Day Passes (sold only on-site, includes unlimited access to the gym, spa pool and jacuzzi.) or VIP Memberships (local benefits plus Pool Club access and credit, towel service, and 10% of spa and concerige services, included free for hotel guests.) The do not charge a membership fee.
Features: located in the romantic zone, Air-conditioning, parking, no fee for long term memberships, they have bi-lingual staff, and they don't have trainers.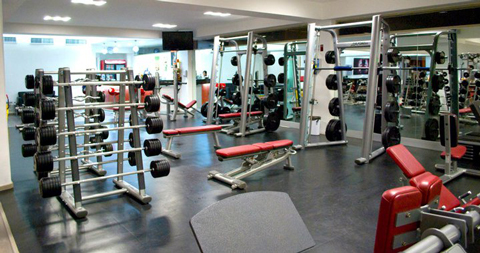 The Fit Club Rivera Molino Local #9 Ignacio L. Vallarta 130 is basically a fully equipped gym with certified training personnel can counsel you on health, develop a personalized fitness regime.
Features: Air-conditioning, parking available, located in the Romantic Zone in front of Molina De Aqua Condominiums, long-term memberships may have a membership fee, bi-lingual staff and trainers on-standby.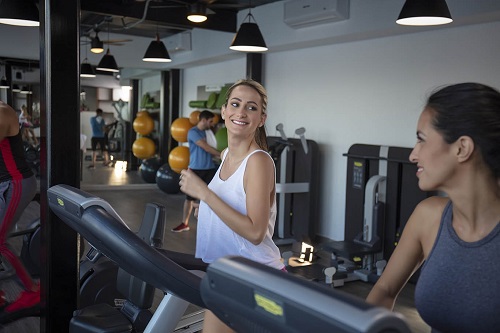 Almar LGBT Resort Gym Amapas #380. Located inside Almar Resort this new modern gym overlooking the ocean was designed for those that enjoy feeling and looking good. Featuring ARKE functional training equipment so you can get the best results from your time. Open from 6am to 10pm with complimentary access to their hotel guests. This gym is closed to the public only open to hotel guests.
Features
Towel service provided
Air conditioned area
ARKE functional equipment
Bi-lingual staff and Personal trainer available at extra charge
Located in the Romantic Zone, with parking available for hotel guests
Power Fitness Aquiles Serdan #420 is a locals gym located in the gay zone.
Features: No air-conditioning, street parking in front of the gym available, limited power machines (mostly free weights), no trainers on staff, Insider's tip:it would be good to know some basic Spanish if visiting Power Fitness, no fee for memberships.
Acqua Gym Calle Constitución #450 was a popular gym that was located in the Romantic Zone. It is now closed replaced by Acqua Spa, a top rated men's only luxury spa with a very similar look. You should definately check Acqua Spa for a luxury spa experience.
Looking for cross fit in the gay zone? There is two Cross Fit locations for cardio training, fitness and yoga classes.
Orssfit Basilio Badillo 330 where Act 2 Entertainment is located. phone 322 221 2198
Crossfit Zapata Basilio Badillo 607. phone 322 151 2105. This location is owned by Sergio Alpenia, chef of Archie's Wok restaurant in Puerto Vallarta.
Yes, Puerto Vallarta did have a Gold's Gym until it closed in 2016. Unfortunately it was not located in the gay zone so it was not popular among short term tourists. The history of Gold's in Puerto Vallarta began October 24, 2002 (one day before Hurricane Kena hit PV). The gym opened with 45 cardio machines to having more than 120 machines with 14 tons of free weight at its peak. Some reports indicate it had 1800 members and it sponsored several annual events in Puerto Vallarta including;
April Before and After challenge
October Mr. Gold's (rewarding the best body)
November Anniversary Celebration