Are you ready to cruise in Puerto Vallarta? We have your insider's guide for the best Puerto Vallarta Gay Cruising Spots! Oh, if you were looking for the best gay boat cruises in PV, you can find that helpful guide here. First the city itself is a cruising town. Younger Mexican nationals are eager to visit Puerto Vallarta on vacation from more conservative smaller towns many without gay bars or clubs. They are cruising for hookups literally upon arrival! Be aware the streets in the entire romantic zone are very cruisy. You will frequently see guys of all shapes, sizes and colors walking freely to and from the gay beach in just their bathing suits. So you technically do not have to go to a formal cruisy bar or bathhouse, but we will discuss that option in this article also.
Editor's Note: This is an information article about cruising spots in Puerto Vallarta. We do not condone illegal sex acts of any kind, especially sex trafficking of minors or illegal prositution. Please take this as information to know, but not as GAYPV promoting any illegal sexual activity. Always obey all local laws prohibiting public nudity, indecent exposure and prostitution.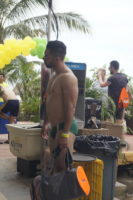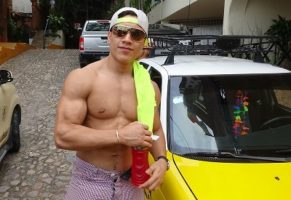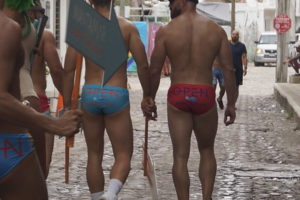 Where are the best daytime cruising spots in Puerto Vallarta? The gay beach, stretching from Sapphire Ocean Club to Mantamar Beach Club. Since the 1980's this area has been the "official hangout" for the LGBT community so everyone knows where to go to see and be seen. With our warm tropical climate producing 300 sunny days per year, we love to cruise guys showing off their sculpted torsos while walking to and from the ocean. Tip: If you are at one the beach clubs, sit at the back near the bathrooms and you will have a steady stream of walkers all day to look at. The bathrooms at all the beach venues are good cruising spots. Ritmos and Blue Chairs have 1 shower head that is open to the public, intented to be used with your bathing suit on. At Ritmos is at the back to the right facing the bathrooms. Blue Chairs it is on the corner pole of the restaurant nearest the beach. It can be arousing to see your fantasy guy showering and cooling off. Often you can get a glimpse or be shown what you are looking for.
Another tip at the beach. If you walk south past the seahorse the beach ends. If you keep walking carefully through the rocks, there is a path going up the hill and rock area. At the top of the rock there is a small private area. This is a very cruisy area with incredible views of the bay. If you continue down the hill to the bottom, you reach a private sandy cove beach hidden that is also very cozy and private.
Happy Ending Massages and regular massages can be located daytime in the Romantic Zone on a Massage Row. One is located on the street behind Sapphire Ocean Club called Malecon Street on the way to Blue Chairs Hotel (pictured above). After 11 am daily, you will find a host of massage therapists hanging out at all the salons. You will be asked if you want a massage by more than one therapist. Take your pick and be sure to negotiate up front exactly what kind of massage you want. Not every therapist will be interested in giving a happy ending.
Where are the best cruising spots at night in Puerto Vallarta: Check Spartacus Sauna, PV's men only gay bathhouse. You will find everything you need for a hot steamy hookup: showers, lockers, sling room, jaccuzzis, video room, and more. Spartacus is busy at various times, typically during the week after 6pm until closing at midnight and weekends up to and after the bars close (from 6pm until 12 midnight, then from 3am until the next day closing at 9am.)
Strip Clubs: Another PV amenity is our 3 sexy hands on strip clubs (Wet Dreams, Antroplogy, and 69) The busiest time to go is from 9pm until midnight, however they are usually open until 2 am. You definately can cruise the strippers there and even the customers. The strippers are usually working for tips only (no daily salary) so please don't expect to go inside without being generous with tips. They earn it. If you want to cruise for free, GO TO A BAR!
Another Tip: You can bail out a stripper (take him home for a fee) from some of the strip clubs. Inquire within!
Puerto Vallarta Dance Clubs and Gay Bars: This is a good place to see the guy you been cruising at the beach all day, maybe with his shirt off and grinding on the dance floor. That can be a good indication of him in the bed! The clubs are busiest from midnight until 3 am, usually closing at 6 am.
A Tip for Night Cruising from the bars in PV: Don't be alarmed or upset if you don't hook up with a Mexican national from a dance club between midnight until 3 am. The nationals, especially visiting nationals, really enjoy their dance clubs and are there to dance, not cruise. He is on vacation likely for just 1 or 2 nights so he will be very reluctant to leave on a hookup until the dance floor slows down. Patience my dear!
If you did not visit a formal hotspot at night, here are some other options. The street side taco stands in PV at night are very cruisy! A Mexican national tradition is to eat late night after a night of dancing, so be sure to check out the closest taco stands on your way home. Also the streets on the way from the bars from 3 am until the early morning hours are cruising hotspots!
A final cruising tip: If there is a big circuit party in town, find out if there are any after parties from our gay event calendar. If so main streets from the bars to the hotels (Olas Altas, Basilio Badillo, Lazaro Cardenas, V. Carranza, and Amapas) can have a line of guys walking on their way to their hotel from 6am to 9am depending on when the after party ends.
This is your complete traveler's guide to gay cruising the hotspots of Puerto Vallarta day or night! Be Safe and Happy Cruising!