Looking for the coolest pool party to attend on your vacation in Puerto Vallarta? We have the Best Puerto Vallarta Gay Pool Parties with a view where you can spend the day, have fun and enjoy an amazing view! This view might be the ocean, the mountains or a hot guy with nothing on. You choose! Check the latest venue update as COVID-19 virus could have your favorite pool party suspended for now.
Mantamar Beach Club Infinity Pool Malecón #169, Zona Romántica. This adults only property is the beach club associated with Almar Resort on Playa Los Muertos. This luxury property features one of the largest infinity pools open daily to the public via a day pass or you can get complimentary access as an Almar guest. The day cabanas located poolside or up stairs facing the ocean are a true luxury experience. This is the place where you can enjoy weekly pool parties in Puerto Vallarta, live DJ's (normally Saturday and Sundays) and the most famous pool parties in the city. Look for the Beef Dip Pool Party, White Party PV, H20, and Vallarta Heat to be held here. Features A large infintity pool and luxury cabanas, open to the public, normally live dj on weekends, home of the large PV circuit/pool parties.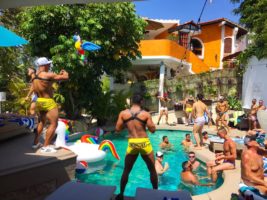 The Pool Club at Casa Cupula Callejon De La Igualdad, Mexico #129. Try this pool party from Casa Cupula LGBT Hotel if you are looking for a little more sexy fun. Normally open to the public daily, you can bring friends or make new ones at one of Puerto Vallarta's swimsuit-optional pool parties, a full bar and grill, and incredible views of Banderas Bay. Check the latest schedule and COVID-19 updates, but normally you can find a popular Saturday afternoon pool party with dancers and live Dj music. Look for the Bearadise Clothing optional pool parties here from time to time. Features Clothing optional, open to the public, Sat music and dancers.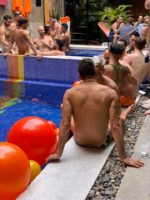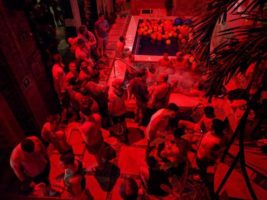 Saturday Pinata PV Gay Hotel Social Pool Party Calle Venustiano Carranza #322. The pool and its wildy popular Saturday Pool parties are private, clothing optional and men only. You always find hot steamy fun and sexy men at Pinata PV. Features private. men only, clothing optional, dress code for pool parties.
Sunday Beers Boys and Burgers Pool Party at Hotel Mercurio Calle Francisca Rodriguez #168. Check out this Sunday popular local pool party. Sorry, but Hotel Mercurio pool party is not clothing optional. However, come hungry as the cover gets you all the burger sliders you can eat! Features Open to the public, Sun music and entertainment.