Are you looking to stay fit and work out on your gay vacation to Puerto Vallarta? Maybe you are staying in a vacation rental or condo outside the gay zone. Where Are the best Gyms In Puerto Vallarta? We are going to give you the ultimate guide for all the gyms located outside the zona romantica. If you are looking for the gay gyms located in the gay zone, read our insider's guide to those gyms here. Some handy things to know when you are looking for gyms are: location, do they have air-conditioning (as PV in the summer can be very hot and humid for a work-out without it), do they charge a membership fee, bi-lingual staff if you don't speak Spanish, and do you need a trainer? Another tip: Be sure to check many of the new puerto vallarta condos for sale as some have their own private gyms, not open to the public. The information in this guide is accurate at the time of publishing but always check the specific gym for the latest updates, including COVID-19 procedures affecting current rules and policies.
Gyms located in the Puerto Vallarta Centro area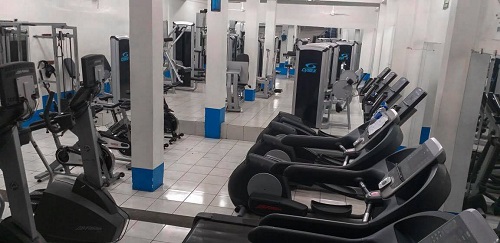 Central Gym Calle Morelos #932 Tel 322 222 9472 located in centro 2 blocks behind McDonalds on the Malecon. This locals gym is not bad for the price and equipment. They have installed some CYBEX equipment. Features: located in Puerto Vallarta centro, no parking available, trainer available, no membership fee.
Gyms located in the Puerto Vallarta Hotel Zone
At the Puerto Vallarta Sports Stadium Av Francisco Medina (officially called Estadio Municipal Agustin Flores Contreras) located in front of Hotel Sheraton there is a walking and running track. Located next to the running track there are a few very simple exercise machines free to use.
ViveFit Av. Francisco Villa 299 phone 322 222 5818 This full service modern gym is located few blocks behind Mega and has a swimming pool. Some recent negative comments are about the price, forcing you to pay for services you don't need.
Sport Center Vallarta Corregidora 536, Lázaro Cárdenas phone 322 223 3427 A locals gym located on 2nd floor of the building. Features bilingual trainers, no air-conditioning, street parking in front of the building, no membership fee,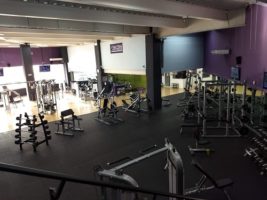 Anytime Fitness Av Los Tules 178 located in Plaza Carazol phone 322 277 8291 Part of the international anytime fitness chains. Features Yes open 24/7, parking in the shopping center, air-conditioning, trainers
Life Gym Vallarta Av. Francisco Villa #1526 phone 322 688 3278
Gyms located in Fluvial and Pitillal and Airport areas
Power Zone Gym Ave Francisco Villa 520 phone 322 225 4016
Evolution Fitness Ave Francisco Villa #900 phone 322 279 4726 Recent customer reviews rate this gym 4.9 of 5.0 and comment: Instructors available, easy parking available, very clean and friendly staff
Star Center Gym Av. Revolución #726 Pitillal phone 322 139 4114 locals gym
BodyGym Col. Palmar de Aramara, Av. Prisciliano Sanchez 136b 2nd floor back of Fluvial area Costco area
Vallarta Fitness Ave Francisco Median inside Liverpool mall phone 322 209 1100. This is a huge modern gym unfortunately located 20-30 minutes by car north from the gayborhood. Mall underground parking available, air-conditioned, trainers available, lockers and showers included, also this gym includes with kids club and deli.
Fitnezone Gym Prisciliano sanchez #625 phone 322 276 4568 This huge gym has 3 floors,, lots of cardiovascular equipment, free weights, integrated weights, abdomen, boxing bags and showers. Features: located in back of Fluvial area, parking available, no membership fees.
Yes, Puerto Vallarta did have a Gold's Gym until it closed in 2016. Unfortunately it was not located in the gay zone so it was not popular among short term tourists. The history of Gold's in Puerto Vallarta began October 24, 2002 (one day before Hurricane Kena hit PV). The gym opened with 45 cardio machines to having more than 120 machines with 14 tons of free weight at its peak. Some reports indicate it had 1800 members and it sponsored several annual events in Puerto Vallarta including;
April Before and After challenge
October Mr. Gold's (rewarding the best body)
November Anniversary Celebration