There are two options to find a Gay Puerto Vallarta Bath House, Sex Club and Men's Saunas in Puerto Vallarta. The first is found at Spartacus Sauna Calle Lazaro Cardenas #240. Spartacus Gay Sauna/bath house is exclusively For Gay, Bisexual and open minded men over the age of 18+. This+4,000 sq complex is spread over 4 floors with a large rooftop terrace, pool and Palapa for the sun lovers/ smokers and nude sunbathing.
– Minimum age to visit Sauna Spartacus in PV is 18 years.
– Sauna Spartacus PV does not tolerate, promote or endorse rent boys or prostitution in our facilities. It is therefor strictly forbidden to perform these activities. If you perform these activities pictures of you will be taken and you will be reported to the police.
– If you witness these activities as a visitor, please report to us immediately.
– Sauna Spartacus PV is a drugs-free zone.
Amenities include – Private rooms
Dry Sauna Massage tables
– Steam Room – Vapor Cine Lounge
– Jacuzzi with massage jets Rooftop Palapa Bar
– Showers Sun Deck with Nude Sunbathing
– Relaxation cubicles Smoking Area
– Video room Roof top Pool
– Lockers Relaxation Room
To see exclusive videos from Spartacus Sauna visit here.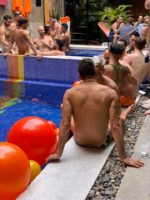 Be sure to check Pinata PV Gay Hotel conveniently located in the gay zone at Venustiano Carranza #322. Although technically not a bath house or men's suana, this men's only gay hotel produces very sexy results. This small Mexican vibe hotel has all the amenities of a bathhouse: a center courtyard private pool, Jacuzzi, lockers and produces a wildly popular Saturday Social Clothing optional pool party. Other days the pool becomes a hot private nude party, mainly for hotel guests and special invited friends. This was the location of the very first Justfor.Fans sex party in Puerto Vallarta in NYE 2020. See the exclusive photos here.
Another option is Rainbow Palms Resort Chee Chee Boca De Tomatlan. This unique, open air resort is located 25 minutes south of Puerto Vallarta in Boca De Tomatlan. Originally called and widely known as Chee Chee, the owners frequently host clothing optional pool parties and events. Open minded travelers will find pools with amazing panoramic views of the Pacific Ocean, a complete sex play room with a sling, glory holes, jacuzzi, and a video room.
The original gay Puerto Vallarta Bathhouse was Vallarta Cora Hotel Pilitas #156 which unforunately closed in 2016. It is now remodeled and open as a gay friendly hotel (without the bathhouse features) under new management called Hotel Hacienda De Vallarta Pillitas. For 20 years (1996-2016) Hotel Cora and its owner Mario served as PV's only men only bathhouse and one of PV's first clothing optional pool areas. It was a small Mexican style hotel located 1 block from the gay beach so it was very popular for all kinds of fun on the way to and from Blue Chairs. The center courtyard pool was packed from early afternoon until evening with locals and tourists enjoying the hot tub, video room and dark play room. The large jacuzzi in the back was next to a fun hallway of showers. There is an upper deck for sunbathing (etc.) and a backroom maze area. This part of Puerto Vallarta's original gay history is gone but not forgotten.
For more Puerto Vallarta Bathhouse to visit come and check our Puerto Vallarta Bathhouses.