What is new in Puerto Vallarta news in June 2020? Puerto Vallarta has become a well-established and popular Mexico LGBT gay travel destination for many years. Here is a list of what is new with Puerto Vallarta businesses and activities when you return.
Puerto Vallarta Gustavo Díaz Ordaz International Airport releases the new protocols to arrive to Puerto Vallarta during the Corona Virus pandemic. As early as January 2020, GAP the owner and operator of PV's airport announced it had installed sanitary controls in accordance with local health authorities including infrared thermometers, thermographic cameras, and informative flyers, posters, and videos regarding proper hygiene and COVID-19 prevention. GAP also announced social distancing measures that consist of limiting access to terminal buildings, maintaining a safe distance and extra space in lines throughout the airport with guidelines from vinyl installations on the floor to encourage customers to stand apart, alternating the use of lines at inspection points, and separating benches and limiting capacity in aircars and commercial premises. See the complete Puerto Vallarta airport covid procedures here.
Antropology Strip Club celebrates 20 years in Puerto Vallara in 2020. Antropology strip club has recently celebrated 20 years in Puerto Vallarta. During the pandemic, they have remodeled adding a new VIP lounge (pictured below) a 2nd modern show and lots of new wall paintings and murials (also pictured below)
New VIP Lounge New modern shower and Expanded bar
CC Slaughter's Dance Club opens the new Bites Bar May 18, 2020 directly adjacent to the current dance club. The bites bar is open from 12pm until 7pm with short order bites. See the fun menu below.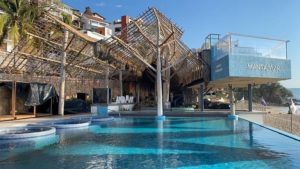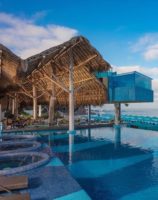 Mantamar Beach Club Bar and Sushi has just completed the installation of its brand new palapa. The beach club reopened June 1, 2020 and is taking all the sanitary and safety measures required for your safety. You must consume food to purchase alcohol at the beach club. The infinity pool will reopen once the authorities grant permission for pools to reopen. See the sanitary measure for Mantamar Beach Club here.
The new Puerto Vallarta cruise terminal expansion. Thanks in part to $16 million in private investment, Puerto Vallarta's Cruise Port Authority completed construction on May 15, 2020 the Los Alambiques cruise passenger welcome center and Hacienda Tequilera, a themed shopping center. The new welcome center has three buildings, each drawing on designs and aesthetics from the tequila haciendas and sugar mills that have been endemic to the state of Jalisco for decades. Inside you will find a duty-free shop and offices for U.S. Customs and Border Protection. The Hacienda Tequilera is an huge shopping center will also be the center for cultural productions and other entertainment. Puerto Magico has 76 stores, including a tequila museum, a chocolate museum, jewelry stores, clothing retailers and restaurants.
The Casa Magna Marriott Puerto Vallarta has reopened for summer, inviting guests back to enjoy newly reimagined spaces and concepts, following a $20 million property-wide renovation that was completed just in time for 2020. The project's newest introductions, both open to guests, include an upgraded infinity pool (Puerto Vallarta's largest), and Nosh, a bi-level, open air eatery just steps from the sand that provide the ultimate getaway for those travelers seeking an escape to relax and revitalize.