Puerto Vallarta Clubs and Parties Cancelled For NYE 2021. The Jalisco governor (which includes Puerto Vallarta) announces Puerto Vallarta clubs and New Year's parties of more than 10 people are closed starting December 25, 2020 until January 10, 2021.
Puerto Vallarta clubs are closed during the period.
All New Year's events and parties are cancelled in restaurants. hotels, bars, clubs . (Events are defined as having more than 10 people and with elements inviting celebrating music etc)
Puerto Vallarta beaches are open.
Puerto Vallarta restaurants are open no live music, dance floors, or fireworks.
Puerto Vallarta Cabaret venues will be open during this period. Act 2 PV, The Palm Cabaret and Nacho Daddy.
Some Puerto Vallarta bars that can operate as restaurants are open until midnight. Food is a requirement to consume alcohol.
Public Transportation is operating normally.
The following specific businesses have issued statements and their schedules regarding these restrictions from
December 25, 2020 to January 10, 2021.
Please see the
GAYPV event calendar
for the latest events and check back for the latest business updates here
Industry Night Club PV statement Due to the sanitary measures established by the state government of Jalisco, the bars will remain closed from December 25th to January 10th, 2021, therefore, we are forced to cancel the next dates of the New Year festival that we had scheduled: December 26, 27,28,29, 30 and January 02, 2021. Access refunds will be made directly through Eventbrite. Thank you very much for your understanding.
Contact the event organizer for December 31, 2020 location change.
Debido a las medidas sanitarias establecidas por el gobierno estatal de Jalisco, los bares permanecerán cerrados del 25 de diciembre al 10 de enero del 2021, por lo tanto, nos vemos obligados a cancelar las siguientes fechas del Festival de Año Nuevo que teníamos programado: 26, 27,28,29, 30 de diciembre y 02 de enero de 2021.
Los reembolsos de los accesos se harán directamente a través de Eventbrite. Muchas gracias por su comprensión.
Anonimo Video Bar hours from Dec 25th thru Jan 10th Open from 1 pm everyday with food.
CC Slaughter's will be open as a restaurant only. The dance club will be closed. People must order food because they are open in the capacity of a restaurant only. 9am – 12am. Breakfast, lunch and dinner. Breakfast menu available all day.
Bearadise Bear Beach Festival
Hello dear Bearadise friends. Due to the new partial restrictions by the state of Jalisco, we have made the difficult decision to postpone our upcoming beach experience on December 29th, 2020 to January 28th, 2021. We are looking forward to seeing everyone at the end of next month. We would like to wish everyone a happy and safe holidays and a prosperous 2021.
Will Gorges Presents
breaking news! The NYE FESTIVAL 2021 has resolved the dilemma and all events are now in locations in Nayarit state – 30 minutes from Vallarta – free continuous AC luxury bus transport will be included to all events! All huge open-air venues! More details to come! Tickets for all events are still on sale! Information Center will be open 12pm -5pm starting Dec 27 2020 to Jan 2 2021 at Coral Spa in front of Hotel Tropicana. Tickets at
www.willgorges.com.
Nacho Daddy will be open from 11 am to 11 pm except closed Dec 31, 2020 at 10 pm. All shows will continue as scheduled, 1 show per evening.
Spartacus Sauna will be open December 24, 2020 2pm-10pm with last entrance 8:30pm. December 25-January 10, 2021 open from 2pm-12 am midnight with last entrance at 10pm.
Hamam Turkish Boutique Spa open as usual December 25-January 10, 2021
Casa Cupula will cancel their New Year's Eve event as well as pool parties until Jan 10. Their restaurant Christmas dinner is still on, as is brunch. The Casa Cupula Pool Club is open from 12-8 pm daily, serving food and drink with social distancing and with capacity restrictions. A great, early alternative to bars.
Hotel Mercurio pool is open daily as well as the Sunday Drag Brunch is operating every Sunday.
Chachalacabar Bar will be open as a restaurant during the period from 3pm-12 midnight serving their delicious food menu and the open air garden seating is open. They are following all safety protocols and Our New Year's Eve party is cancelled. Food is a required purchase as we are operating as a restaurant, the reglamentos expects food to be part of your visit. Chachalaca will work on the protocol of a food item for every 2 people unless we are informed otherwise. Thank you for your understanding and supporting our business during these times.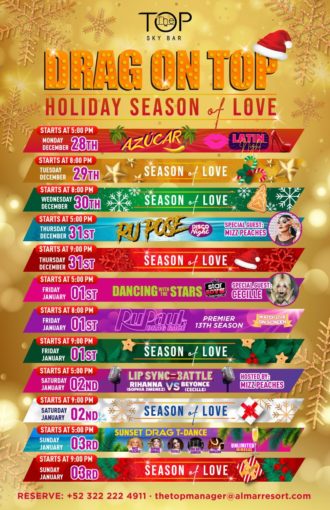 The Top Sky Bar has Drag on Top Shows come and enjoy our sunset on the best roof top in Puerto Vallarta.¡SPACE LIMITED! Reserve
+52 322 222 4911
The following guidelines have been issued for parties and social gatherings:
Regarding social activities, meetings with up to 10 people can be held, with the recommendation that attendees should be of up to three different homes (three family cores).
Permits are also restricted for social events (weddings, fifteen years, baptisms, birthdays, new year festivities, etc.)
For religious and religious events, the capabilities are restricted to 25 percent and the disinfection of the enclosures should be guaranteed after each celebration; choruses and chants, as well as dancing groups and any demonstrations that gather people, are suspended.
Citizens are also asked to minimize social gatherings (work celebrations, alumni, businesses, etc.) and not attend any family or social gatherings those who have been diagnosed with COVID-19 and are still still on transmission period; have symptoms of COVID-19; or are waiting for results from the coronavirus diagnosis test; or may have been exposed to someone with coronavirus in the past 14 days.
Festivities such as patrons and pilgrimages, street parties, fairs are suspended, as is burning fireworks in public places, bonfires in public spaces and homes.