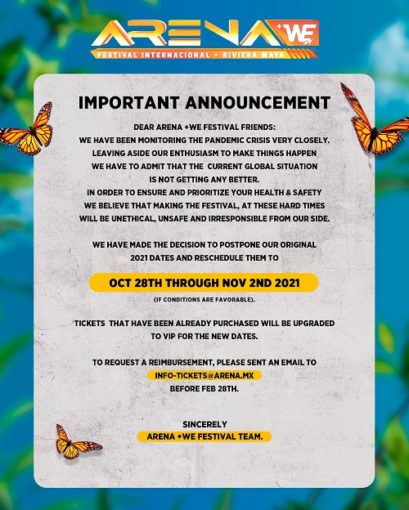 Dear ARENA +WE Festival friends:
We have been monitoring the pandemic crisis very closely. Leaving aside our enthusiasm to make things happen, we have to admit that the current global situation is not getting any better. In order to ensure and prioritize your health & safety, we believe that making the festival, at these hard times, will be unethical, unsafe and irresponsible from our side. We have made the decision to postpone our original 2021 dates and reschedule them to Oct 28th through Nov 2nd 2021 (if conditions are favorable).
Tickets that have been already purchased will be upgraded to VIP for the new dates. To request a reimbursement, please sent an email to
[email protected]
before Feb 28th.
Sincerely, ARENA +WE Festival team.
Arena Festival, Mexico's biggest gay and lesbian dance music festival, celebrates its blow-out 8th edition on the Riviera Maya with special parties from January 30th to February the 4th, 2018. Attracting thousands of attendees from across the globe, Arena Festival promises an unforgettable week, with a stellar artist lineup and lots of surprises in store for this world-class house music event.
An eden for music lovers, Arena Festival takes over the number one destination for beach and eco tourism in the heart of the Mexican Caribbean. Playa del Carmen is a stunningly beautiful, vibrant part of the Mayan Riviera, located on the pristine Caribbean coast of Mexico. Blessed with miles of unspoiled white sand beaches and crystal-clear Caribbean waters, Playa del Carmen offers an unforgettable time and endless adventures. Filled with a variety of beautiful and affordable boutique hotels and landmark nightclubs, there is an endless number of places for dining, dancing, and clubbing.