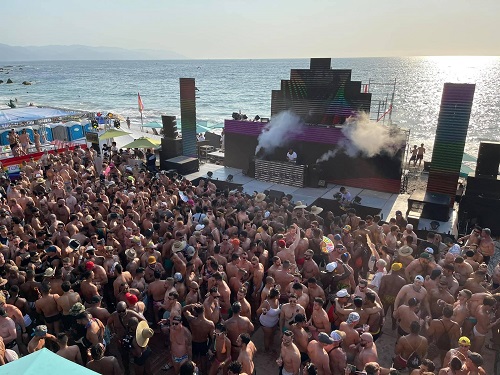 Puerto Vallarta Gay Pride 2021 Bigger Than Ever. Puerto Vallarta Mexico celebrated a 7 day in person Gay Pride for 2021 with huge circuit parties and thousands in attendance. PV was one of the first international destinations to announce an in-person gay pride event for 2021. Even without the usual parade and block party, this year's event was larger than ever. Vallarta Pride 2021 featured the largest circuit parties ever held in PV. For 7 days, the city had pulsating parties, 3 different after-parties, overflowing related events, jam-packed local businesses and record-breaking sales for many businesses. This small city exploded like never before.
Why now? Many US citizens were fully vaccinated in May, while cities in the US and Europe remained closed. However Mexico was open and many discovered Puerto Vallarta for the first time and they loved it! No longer do they have to travel to Barcelona, Mykonos, or Palm Springs to attend an international circuit party or after party!
Who visited? What struck observers was the huge numbers and the demographic that arrived. It was younger, hotter, and more diverse than ever before! They met the older vacation traveler who had been coming to PV for years and they fell in love.
Why Puerto Vallarta is a top gay destination? Puerto Vallarta has been a well established
vacation destination for many years. Its warm climate and famous gay beach has attracted international vacation travelers since the 1980's. Gay nightlife has thrived in Vallarta with a large number of gay bars, dance clubs, strip clubs and live cabaret produce something for everyone. An array of day activities and fabulous restaurants in a gay-friendly city that is affordable with close proximity to the United States have produced a top gay destination that few other cities can compete with.
Do huge parties and events help Puerto Vallarta? Kevin Leah of Ryan Donner & Associates says "As a real estate agent in Puerto Vallarta, I always ask clients why they chose Puerto Vallarta. One frequent response is that events lead the party goer to discover the city, eventually returning to become a repeat visitor, business owner or even a condo buyer. So the results are long term and substantial well after the party is over."
Is there more to Vallarta Pride than circuit parties? This year, several businesses and community leaders formed the first Nuestro Orgullo Vallarta. They organized many fun cultural, artistic and recreational events like the candlelight memorial, a yoga day, and the traditional raising of the gay flag in front of the world famous Los Muertos pier. Other fun events included a rustic, campground experience, the celebration of life Night of the Fireflies and bingo night. Almar Group brought Bianca Del Rio for her first city performance and presented drag sensation SHANGELA with the first Pink Vanguard Award for her charity work in the Vallarta community during the Covid-19 crisis.
Women's only event organizer Pink and Proud hosted their first-ever Pink & Proud Pool Party. There were lots of fun things going on like Agave Spirit Tastings, Mixology Classes, Live DJ and Acrobats for women only!
Even the bears had their own Puerto Vallarta Bear pride. Bearadise organized a weekend series of pool parties, bear bus rides, and clothing optional beach events attracting hundreds of new bears.
Not interested in following the crowds? No problem, do it your way. Couples can enjoy a romantic sunset at one of the many world class restaurants followed by a stroll along the Malecon and Pier. Singles can pamper themselves with a relaxing massage and spa treatment and take a fun boat cruise. Enjoy the fun atv rides or ziplines. The options to enjoy are endless.
Discover for yourself why Vallarta Pride is one of the most popular international gay pride events~!! Circuit parties satisfy the top partiers, but also cultural and traditional events for everyone! There is something for everyone no matter your taste. Don't miss the next Puerto Vallarta gay pride!