Puerto Vallarta Drag Shows What gay bars have them? Going to a drag show is a fun night out on the town . For the most part, the drag shows in the gay bars in PV lip sync to your favorite American and Spanish favorites. They are very entertaining and have been some of Puerto Vallarta's most favorite entertainers since the 1990's. Of course one of the original cabaret shows was the Dirty Bitches Show on the rooftop of Blue Chairs Hotel. Such PV sensations as Diva Divine, AngieStarPV, Kassandra Kastro, Super Wendy, and Carla Fifi have entertained and thrilled audiences both gay and straight. The late Kassandra Kastro performed another one of Puerto Vallarta's original drag shows at Los Balcones around 2001 The costumes and makeup are very expensive so show your appreciation for this hard work and dedication by giving a nice gratuity to each performer when you visit them in action. Here are the gay bars in Puerto Vallarta where you will find drag shows and local drag queen entertainers.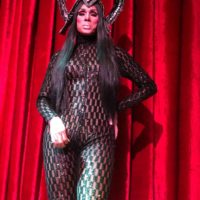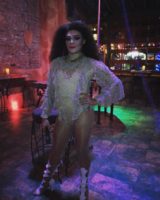 La Noche Bar Lazaro Cardenas #263. La Noche has fun entertaining drag shows starting at 9pm until midnight daily on the first floor level. See performers such as Super Wendy, Mizz Peaches, Angie Starr and others.
Chachalacabar Francisca Rodríguez 136 Chachalacabar has had drag shows 1 time per week. Be sure to check our event calendar to see the exact date and time.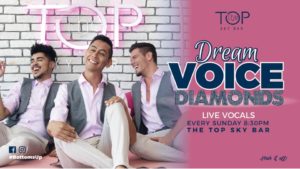 The Top Sky Bar located rooftop of Almar Hotel Amapas #380. Be sure to check out The Top Bar each week. Normally on Thursday, Friday, Saturday, and Sunday you will find drag shows and cabaret performers performing each day. Fridays The Top hosts a Ru-Paul All Star viewing party on the big screen. They are also known to have a Sunday Drag Brunch on occasions as last year they hosted Ross Matthews Sunday Drag Brunch.
Paco's Ranch Ignacio L Vallarta #237 Catch the late entertainment shows at Paco's Ranch at 12:30 (in English) and at 3 am in Spanish. Paco's Ranch features a variety of national performers.
Hotel Mercurio Francisco Rodriguez #168 Sunday 4pm at Beers Boys and Burgers Party. Usually at this party you will always find local drag queen talent and performers. Enjoy the shows in an open air outdoor pool setting.

Looking around at some of the most famous Puerto Vallarta drag queens. Here are some of the most notable ones as featured in GAYPV Ed 7.
Diva Divine (pictured above) Starting back in 2001, Diva Divine began performing in Puerto Vallarta in a club named NYPV, where currently the HEVA condo building V399 is located. She eventually became part of Club Manana's heyday drag star weekly line up 2003-2004ish and moving on to become part of The Dirty Bitches Show at Blue Chairs Roof top until 2009.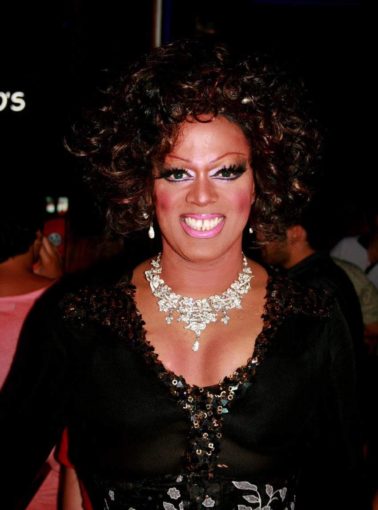 Kassandra Kastro (above) originally from Santo Domingo, Dominican Republic. Kassandra was part of Puerto Vallarta's drag queen legends. She began performing at the orginal Balcones in 2001. Unfortunately Kassandra passed away in 2020 in Puerto Vallarta.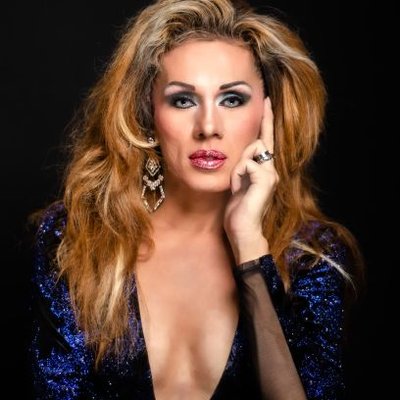 Angelica AngieStarPV (above) AngieStar is originally from Puerto Vallarta and began performing in Paco Paco in 1996 at the amateur night called Que Huevos. She was also part of the original Dirty Bitches Show at Blue Chairs until it ended in 2009.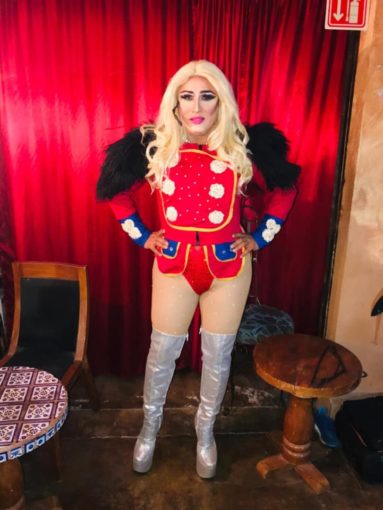 Super Wendy (above) arrived to Puerto Vallarta from Tepic, Nayarit in 2006. Her first job performing was in Paco Paco's amateur show.
Carla FiFi (above) began her claim to fame in Puerto Vallarta at Club Manana.
Mizz Peaches
Miss Butterfly
See the drag shows and entertainment in Puerto Vallarta cabaret theatres here.