Alejandra Bogue Up Close and Personal. Puerto Vallarta's Gay Guide sat down with Alejandra Bogue who was staying at Ron Morgan's luxurious Poshtel Villa Sevilla for Vallarta Pride 2018.
https://www.facebook.com/PoshtelVillaSevilla/videos/1590867584354284
We sat down with Alejandra Bogue who was staying at Ron Morgan's luxurious Poshtel Villa Sevilla for Vallarta Pride 2018.
GPV: We are so delighted to have you back for Vallarta Pride 2018. What events are you hosting this year?
AB: As, you know, I love Vallarta Pride…I am excited to be hosting the Pride Fashion Show, the Drag Derby and of course be in the fabulous parade.
GPV: How are you keeping busy these days?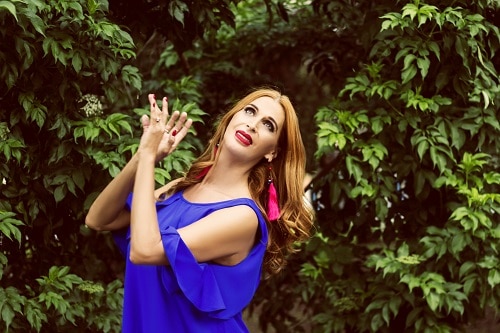 AB: I am currently portraying Zuleyka Montes "La mas codiciada" ie the most coveted, which is a monologue about the life story about the fictitious 1970's showgirl Zuleyka Montes. It is April, May and June at Teatro Belle Scene in Mexico City. Gustavo Sanders is the author, Director and Producer.
GPV: Why was this type of performances important to you?
AB: This was important to me because I am eager to have more roles featuring myself Alejandra Bogue as an actress. I love the characters that I portray like Betty B05 of course, but I really want to show my talents as an individual also. Also, this role made me reflect on my own life especially the relationship with my wonderful and supporting mom.
GPV: What would be an ideal role for you to play?
AB: It would love to be a Mexican villainess type role (a Mexican Catalina Creel or Miranda Priestly Devil Wears Prada type of character). I have an American soul in a Mexican body.
GPV: You would be a great bitch, Alejandra. We know it for sure! Somehow I don't think you would have to act very much in this type of role.
GPV: It is so secret you are not a big supporter of Mexico City Gay Pride. You support Vallarta Pride. How is it different?
AB:I see Vallarta Pride as different. There is a sense of a gay community here with a Human Rights walk with Pride Feeling all year long. In Mexico City it is like there is pride for 1 day, but we fell discriminated the rest of the year. It is sad but in Mexico City, there is a huge ego war among everyone, no existing solidarity or sense of community that I feel here in Vallarta. That is why I don't support pride in Mexico City.
GPV: Thank you Alejandra. It was great seeing you again here in PV. We look forward to your future roles and appearances.
AB: Thank you. It was a pleasure to talk to all my fans and be here in Puerto Vallarta…Muaaah!!!!