Gay Strip Club In Puerto Vallarta

A Visitor's Guide for Gay Strip Clubs Puerto Vallarta. Puerto Vallarta has become one of the world's most recognized gay travel destinations. What has made the gay life of Puerto Vallarta, Mexico so popular many international gay travelers who visit for the first time, repeat and then even live here? Much can be said about the incredible, endless gay nightlife scene in Puerto Vallarta. Puerto Vallarta has the most well developed gay nightlife and some of Mexico's most popular gay strip clubs! The first gay entertainment club Antropology opened more than 20 years ago in 2000. Today there are currently 3 clubs in Puerto Vallarta. Remember in Puerto Vallarta open around 9 pm and close around 2 am each unique and all are located in the gayborhood! Here is the GAYPV Gay Guide to Puerto Vallarta strip clubs.
Antropology Strip Club Morelos #101 Antropology Strip club first opened in Puerto Vallarta, Mexico in 2000. Hence is one of Puerto Vallarta's oldest clubs still in operation. After is recent remodel in 2020, Antropology now has 2 go go showers, a large new VIP area, and a large go go dance area (pictured above). Antropology is the larger of the Puerto Vallara strip clubs, where you will find around 20 strippers nightly. Antropology does the America style strip shows where individual strippers perform in costume and strip down to nude or almost nude then walk around to collect tips. Features this club is darker with more private spaces, American style go go costume shows.
Wet Dreams PV Lazaro Cardenas #312 Wet Dreams PV was the first strip club in Puerto Vallarta to introduce the sexy go go shower show. Wet Dreams is a very popular strip club located on the gay club street. The busiest hours are 9 pm until about 12 midnight, but you can still see hot hands on action until 2 or sometimes 3 am on weekends. The style of Wet Dreams is less formal than the other gay strip clubs. Meaning that there is usually no formal show whereby each stripper comes out and performs in costume and strips down. The style here is more like a free for all extravaganza where 20 sexy strippers are all walking around taking turns in the shower and on the pole area. Wet dreams definately has some of the hottest eye candy of all the strip clubs so if pretty boys is your thing, get in to check it out. The owner of Wet Dreams owns other bars so you will see the hot strippers in circuit parties in Mantamar and in Industry Night Club.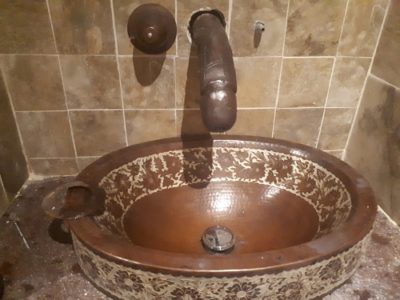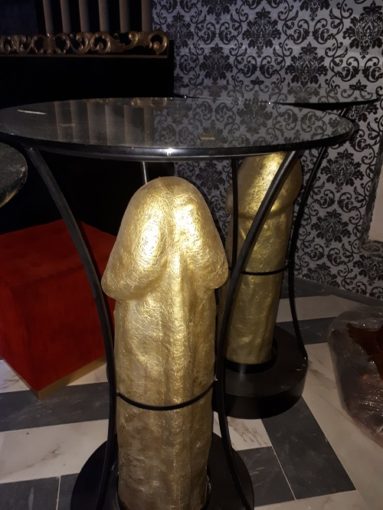 69 Strip Club Lazaro cardenas #316 69 Strip Club opened in 2018 with unique decor catching everyone's attention. This gay strip club sports the tradional American style strip down shows with 2 levels for the strippers to perform. One is center stage and one directly above the bar higher up…with the private rooms downstairs below the bar. This strip bar also has a 2nd level seating area letting you look down on the strippers from above. Features traditional costumed stripper shows unique strip club decor
Here is the Etiquette for Puerto Vallarta gay strip clubs. It is important to know that most strippers are working for tips only. There is normally no salary for the stripper. If a stripper does get a salary per day, it is nominal and not worth consideration. Therefore, he is relying on tips from customers. That makes many strippers agressive in asking for tips. Secondly, strippers normally make commission on drink sales when they work. This is why many ask you to buy them a drink. They drink prices are usually posted but expect stripper drinks to be more expensive than usual drinks. Third, strippers make commission on private dances. Private dances normally run 5- 10 minutes, more or less. Please negotiate up front what you are looking for and an exact price for that. A normal private dance with a stripper in the private room is touching, feeling, and a sexy tease dance. Anything beyond that should be negotiated up front. That price would normally be paid directly to the stripper at the time performed. If there is no extra services performed, a tip is appreciated. So please expect to tip in a strip club in Puerto Vallarta, even if you are just watching a show. Again, the strippers are not making a salary, so please do not be offended if you feel pressure to tip in the strip clubs in Puerto Vallarta.
Puerto Vallarta Gay Dance Clubs
Puerto Vallarta has become one of the world's most recognized gay travel destinations. Gay PV Magazine has had the pleasure of seeing the Puerto Vallarta LGBT scene grow to become one of world's most famous gay travel hotspots in the world. What has made the gay life of Puerto Vallarta, Mexico so popular many international LGBT travelers visit for the first time, repeat and then even live here? Much can be said about the incredible, endless gay night scene in Puerto Vallarta. Puerto Vallarta has the most well developed nightlife and some of Mexico's most popular gay bars and clubs! The first gay club opened more than 25 years ago and today more than 25 gay bars and clubs are thriving. Remember the clubs in Puerto Vallarta open at 10 pm and close around 6 am each unique and all are located in the gayborhood! Here is the GAYPV Guide to Puerto Vallarta Gay Dance Clubs.
Paco's Ranch Ignacio L Vallarta #237. Paco's Ranch is Puerto Vallarta's oldest dance club in operation for 25 years. The original location is where the current C-O-D-E club is and they have been in the current location since 2010. This is the gay dance club catering primarily to the local gay national crowd with a Mexican cowboy type theme. Paco's features nightly drag shows a 12:30 (in English) and 3 am in Spanish. Door open at 10 am getting busy around midnight and closing at 6am. Features Nightly Drag shows, mostly National clientele.
CC Slaughter's Dance Club Lazaro Cardenas 254. CC Slaughter's opened in Puerto Vallarta September 2011 as Club Manana was winding down. CC's has the traditional dance floor inside the club (pictured above right) and an pop dance side on Lazaro Cardenas (pictured above left) with a separate DJ. CC's features go go dancers on the weekends usually from midnight until 3 am.
With an excellent response from local clients and tourists, the CC Slaughters PV dance floor has become one of the best places to spend an incredible night! Their incredible DJs have become known throughout the gay community, for always bringing the best party with the best remixes to dance. CC Slaughters PV is the best place to find what you are looking for any day 7 days a week! Their commitment to customer service and the best drink prices in the city, being one of the only clubs that does not charge cover *. Our priority is you, if it were not for you, we would not be here. You will always find something at CC Slaughters PV, from daily promotions, to special events, top DJs, guests, shows, surprises and much more!
Industry Night Club PV Lázaro Cárdenas 258. The newest gay club in Puerto Vallarta so if you are looking for shirtless guys on huge party weekends, this is the club to visit. This is definately a world class night club, with amazing circuit laser lights, huge LED screen behind the DJ booth, huge gogo booths, and 2nd floor catwalk overlooking the dance floor. Often they have nude sexy shows from select strippers from Wet Dreams at 11 pm. Features circuit party dance club atmosphere, go go boys.
CODE Puerto Vallarta Ignacio L Vallarta #278. A self proclaimed gay club located in the old original Paco Paco location. This is a circus show type club similar to the straight clubs located on the Malecon without a central dance floor consistly mostly of VIP tables and VIP areas. The lights, sound and shows are spectacular. Features Spectacular sound/lighting and shows.
Club Manana gay dance club Puerto Vallarta open from approximately c.2005-2013. Club Manana is without a doubt previously the most popular gay dance club in Puerto Vallarta Mexico. Club owner Peter Deep opened this iconic club putting Puerto Vallarta into the international gay circuit scene. The club brought such names as Jimmy James "Fashionista", Kinsey Sicks for the first time, and man international DJ's and circuit parties for the first time.
Puerto Vallarta Bars With Drag Shows
Going to a drag show is a fun night out on the town. For the most part, the drag shows in the gay bars in PV lip sync to your favorite American and Spanish favorites. They are very entertaining and have been some of Puerto Vallarta's most favorite entertainers since the 1990's. Of course one of the original cabaret shows was the Dirty Bitches Show on the rooftop of Blue Chairs Hotel. Such PV sensations as Diva Divine, AngieStarPV, Kassandra Kastro, Super Wendy, and Carla Fifi have entertained and thrilled audiences both gay and straight. The late Kassandra Kastro performed another one of Puerto Vallarta's original drag shows at Los Balcones around 2001 The costumes and makeup are very expensive so show your appreciation for this hard work and dedication by giving a nice gratuity to each performer when you visit them in action. Here are the gay bars in Puerto Vallarta where you will find drag shows and local drag queen entertainers.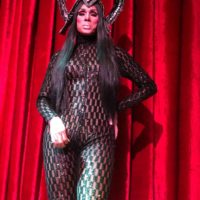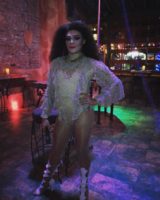 La Noche Bar Lazaro Cardenas #263. La Noche has fun entertaining drag shows starting at 9pm until midnight daily on the first floor level. See performers such as Super Wendy, Mizz Peaches, Angie Starr and others.
Chachalacabar Francisca Rodríguez 136 Chachalacabar has had drag shows 1 time per week. Be sure to check our event calendar to see the exact date and time.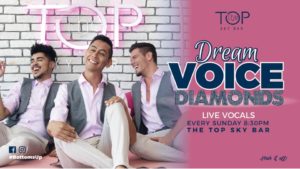 The Top Sky Bar located rooftop of Almar Hotel Amapas #380. Be sure to check out The Top Bar each week. Normally on Thursday, Friday, Saturday, and Sunday you will find drag shows and cabaret performers performing each day. Fridays The Top hosts a Ru-Paul All Star viewing party on the big screen. They are also known to have a Sunday Drag Brunch on occasions as last year they hosted Ross Matthews Sunday Drag Brunch.
Paco's Ranch Ignacio L Vallarta #237 Catch the late entertainment shows at Paco's Ranch at 12:30 (in English) and at 3 am in Spanish. Paco's Ranch features a variety of national performers.
Hotel Mercurio Francisco Rodriguez #168 Sunday 4pm at Beers Boys and Burgers Party. Usually at this party you will always find local drag queen talent and performers. Enjoy the shows in an open air outdoor pool setting.

Puerto Vallarta Drag Queen Divas
Diva Divine (pictured above) Starting back in 2001, Diva Divine began performing in Puerto Vallarta in a club named NYPV, where currently the HEVA condo building V399 is located. She eventually became part of Club Manana's heyday drag star weekly line up 2003-2004ish and moving on to become part of The Dirty Bitches Show at Blue Chairs Roof top until 2009.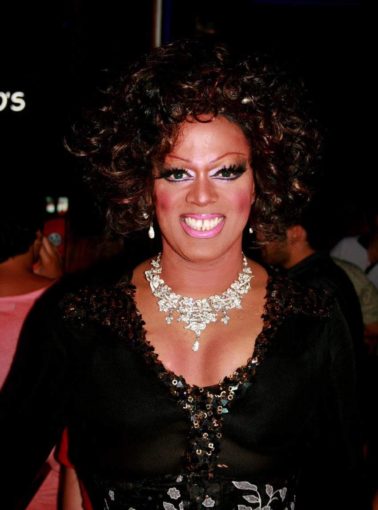 Kassandra Kastro (above) originally from Santo Domingo, Dominican Republic. Kassandra was part of Puerto Vallarta's drag queen legends. She began performing at the orginal Balcones in 2001. Unfortunately Kassandra passed away in 2020 in Puerto Vallarta.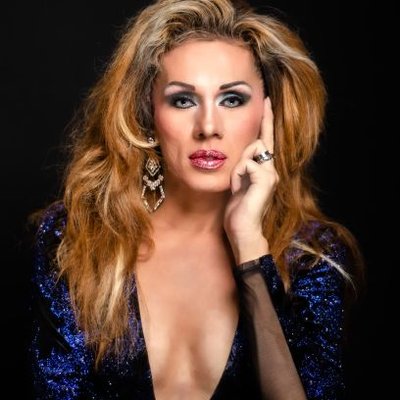 Angelica AngieStarPV (above) AngieStar is originally from Puerto Vallarta and began performing in Paco Paco in 1996 at the amateur night called Que Huevos. She was also part of the original Dirty Bitches Show at Blue Chairs until it ended in 2009.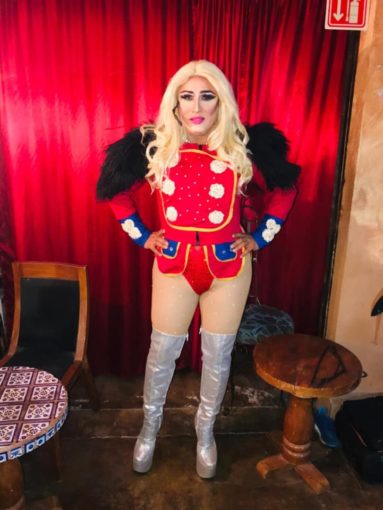 Super Wendy (above) arrived to Puerto Vallarta from Tepic, Nayarit in 2006. Her first job performing was in Paco Paco's amateur show.
Carla FiFi (above) began her claim to fame in Puerto Vallarta at Club Manana.
Mizz Peaches
Miss Butterfly
Puerto Vallarta Gay Rooftop bars
Who doesn't love a refreshing drink with a rooftop view? Whether it's a lofty brunch with an ocean view or a sunset cocktail to cruise the gay bars, you'll find all that and more in Puerto Vallarta. Here is the GAYPV Magazine Travel Guide to the best Puerto Vallarta Gay Rooftop bars.
One of the fun drag brunch cabaret shows at The Top Sky Bar Rooftop Bar.
The Top Sky Bar : With a name like that it has to be on the list, right? The Top Sky Bar is located on the rooftop of Almar LGBT Resort, Amapas 380, in the Romantic Zone. It features breakfast, lunch, and dinner with an oceanfront view facing north. It is also very close to the pier, so you get an incredible rooftop oceanfront view to watch any fireworks or photo one of Puerto Vallarta's incredible sunsets. There is also live entertainment, normally on the weekends. Enjoy a few unforgettable nights in Puerto Vallarta from the top of the terrace while you taste a delicious drink,. Try our exquisite dishes and admire the best shows, live performances and your favorite viewing party on a big screen. Life is better in The Top Bar. See the delicious food menu here.
La Noche Rooftop and Garden Terrace: The second and third floors of La Noche bar, Lázaro Cárdenas #263, is an open air garden terrace located in the gay club zone in the romantic zone. Tastefully decorated with tropical plants and lighting this rooftop bar is a wonderful open air spot to cruise who is walking into Club Industry PV and CC Slaughter's dance clubs. After you see the go go boys eye candy and the drag shows on the first floor, walk upstairs and enjoy fresh air with a city view.
Blue Chairs Rooftop Bar: The world-famous Blue Chairs hotel has a lively rooftop bar that is full of Puerto Vallarta gay history. Back in the early 2000's this was one of the original gay hotspots on the beach and the location of the original Dirty Bitches drag show at sunset. It was recently remodeled around 2015 to add another level and dipping pool. Today it is still the popular location of early evening sunset go go boy shows.
Velas Lounge (pictured right) is located at Calle Francisco I Madero 257 above the corner Oxxo. Velas Lounge is the rooftop lounge combination of Velas Hostel A super clean hostel right in the middle of the main streets and corners of Zona Romántica in PV! From Velas Lounge you can cruise Ignacio Vallarta to see who is heading to Paco's Ranch and Mr Flamingo bars.
Anonimo is a three-level very popular gay bar with an open-air patio located at Rodolfo Gomez 157. The 2nd floor was added in a 2018 expansion using the rooftop of the next-door business rooftop. Anonimo is popular for video music, very friendly popular bartenders(most are always shirtless), and fun karaoke. The third floor (not rooftop) is a very swanky wine bar with a small terrace viewing the street below. There is always something for everyone at Anonimo.
Spartacus Sauna Lazaro Cardenas #240 exclusively for Gay, Bisexual and open minded men 18+. Spartacus has a beautiful palapa rooftop bar with pool for sun lovers, smokers and nude sunbathing.