Book your flight to Puerto Vallarta "Airport code PVR" for atleast a week and be sure to stay in the Zona Romantica. That way you can walk to all the puerto vallarta nightlife, things to do, and best restaurants.  If this is your first time out of the States since COVID-19 and traveling solo, be already—it will be exhilarating. After months of travel restrictions and lockdowns, traveling alone here can prove to be the best medicine and just what the doctor ordered. Traveling after the pandemic is a personal decision, but it you do here are the best reasons you should travel solo to Puerto Vallarta at least once in your life:
Yes, Puerto Vallarta is safe and welcoming for LGBT travelers. We are the "San Francisco of Mexico."
Maybe that is way so many ex-pats are calling this their home and live here full or part-time. Puerto Vallarta is considered one of the safest cities to live and visit in Mexico. This according to the results of the most recent National Survey of Urban Public Safety (ENSU), which measures the experiences and perceptions of residents throughout the country. Certainly, there is always the possibility for smaller crimes like pickpocketing, so it's best to keep your belongings secure and in your eyesight at all times. You don't need to walk around with tons of cash . Puerto Vallarta's Tourism Board became the first Mexican destination to join the IGLTA in 2013. Puerto Vallarta  is a preferred LGBTQ  destination in the Americas with an infrastructure that is frequently included in leading media's gay friendly lists, from Tripadvisor and Lonely Planet to Out Traveler and Passport. Puerto Vallarta also keeps  alliances with leading LGBTQ associations such as GLAAD (Gay & Lesbian Alliance, Against Defamation), GMHC (Gay Men's Health Crisis), Marriage Equality, and Mariage Equality. Puerto Vallarta was chosen as the first city in Mexico to be granted Gay Travel Approved by GayTravel.com
You haven't enjoyed gay bars and clubs until you have visited Puerto Vallarta.
Music and dancing are important aspects of Mexican culture. Most likely by influence of the ancient civilizations the Aztecs, Mayan and European colonizations. This is very true in thegay  bars and clubs. Puerto Vallarta has the most well developed gay nightlife in Mexico! The first bar opened more than 20 years ago and today more than 25 bars and clubs are operating daily *some until 6 am, each unique and all located in the gayborhood. You will always find a new friend when visiting the bars.
Go out and enjoy the what the Mexican culture has to offer. There are lots of fun places to visit. What happens when you are relaxed? Enjoyable good times. When traveling alone you have more possibilities to meet and involve yourself with strangers than when traveling with friends.
Guys like guys who travel so when you meet someone who has traveled you often become immediately interesting in hearing his stories. You already have a connection. Learning from different cultures and absorbing different ways of life can give you an understanding you can't get from books. What if you don't know Spanish? What better way to meet someone by having find someone nearby to ask "How do I say nice to meet you?"
No anxiety enjoying Los Muertos Beach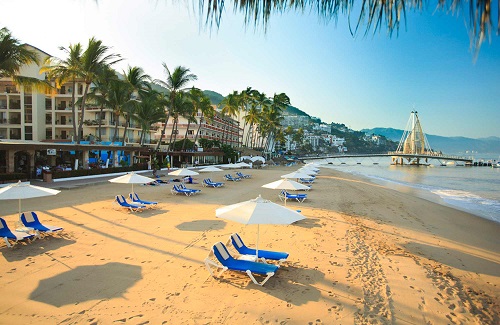 Who can argue with that? Los Muertos beach is ground zero for the LGBTQ community during the day, concentrating on the area infront of Sapphire Ocean Club to Blue Chairs to Mantamar Beach Club.
To Escape a hard painful break up from a relationship. Yes, it it a real breakup! Years together and with a simple phone call everything was over and done. It can be very hard getting over seeing the same face and hearing that familiar voice every day. Wounds, memories and I can't get you out of my head feeling.Don't dwell on your broken relationship and be sad anymore!
You could enjoy a cold cerveza from Anonimo, a fun gay bar in the thriving gayborhood area south in Puerto Vallarta? Pedro (pictured below), the shirtless sexy boyish 22-ish year old local from near El Tuito, might be bartending. He will utter some familiar English clichés with a friendly smile from the bar. "How are doing. Are you traveling alone?"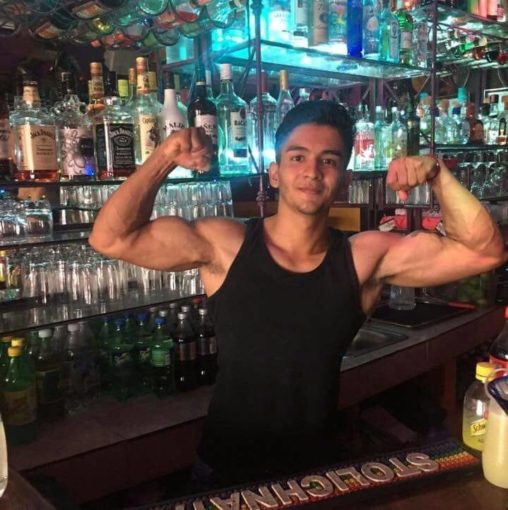 It is easy to meet other singles in Puerto Vallarta.
Puerto Vallarta has a true Gay Zone. The R is for "Romantica" and the Z for "Zone" a true gayborhood. We could easily add "F" for friendly. Year after year many visitors notice how friendly and welcoming the town is. As far back as 2001 Condé Nast  named PV as "The Friendliest City in the World" as well at Travel and Leisure. Insider tip: the Mexican culture is so friendly, you will quickly learn they don't even like telling you no, even when it is your own good! If you are not the first to reach out and meet someone new, there is usually always someone here who will reach out to you. With all the LGBTQ bars, clubs, businesses, restaurants, and hotels within a safe walking distance of each other you are bound to have company.
Puerto Vallarta is a great value for a gay vacation package!
If you are a budget traveler, you will enjoy this vacation destination. Puerto Vallarta is an amazing value for the money. It is close to the US, with flights ranging from 2 to 6 hours. You can literally be on the beach the day you arrive! The peso to dollar exchange rate is incredible.
If you are a luxury traveler, book a luxury condo villa or vacation rental and hire a private chef to prepare your meals!
Traveling alone, you can do what exactly what you want. You don't have any concessions to make to others from the group so you can do everything! 
Enjoy a great meal! Puerto Vallarta is for foodies! There are so many great restaurants for every culinary appetite and budget in Puerto Vallarta, from street taco stands to fine dining and every cuisine and price in between.
See a fun theater show. Puerto Vallarta has the best gay cabaret in Mexico! In season, we have great live theater producing drag shows 7 nights a week. Everything from musicals, broadway shows, comedy, and drag shows from local and international artists make us P-Town south of the border.    
Go shopping in one of Puerto Vallarta's art galleries in centro or Zona Romantica. The latest trend is several popular bars (Blondies PV, Los Otros Blondies, Apaches Martini Bar, Hotel Mercurio, Wet Dreams and Industry Night Club PV) have started selling their own shirts and accessories! What better way to remember your favorite travel destination that take home a souvenir! Not into shopping, walk anywhere in old town and take in some festive Mexican culture and rich traditional heritage and you have for arts and culture scene for everyone.
You are the real Puerto Vallarta gay travel expert now. Discover for yourself how beyond gay-friendly Puerto Vallarta can be.