Chris Collins (on right side in the picture) and his friend Ken Nabess, both from Toronto, returned from Puerto Vallarta in January 2022. Chris made his first visit to PV in the winter of 2005 and met Ken, who had been visiting since 2003. They have been best friends ever since and usually visit PV together in winter every year. This trip was to be among three friends (Chris, Ken, and a female friend) for two weeks. 
Three weeks before the departure date, the Canadian government announced that if you leave and are unable to return, the government would not assist you in getting back. The government was discouraging all non-essential travel to Mexico and making the decision to visit Mexico a difficult one. However, Chris and Ken decided to come even after their female friend canceled. Once he arrived, he called another female friend Steph from Toronto, to ask her to come down for the weekend. She had never been and decided to come and had the time of her life! She fell in love with PV, as many first-time visitors do. 
Chris, thank you so much for speaking to us about your decision to visit PV in the midst of restrictions. What were the major reasons you decided to come?
We thought about canceling our trip this year again but had already missed our trip last Feb 2021. Ultimately we decided life is too short to keep canceling and putting off vacation. We didn't want to go another winter without a break. If we rescheduled, there could be another variant or something else COVID related to cancel our trip. The time we are in PV is unparalleled to anything else: It's fun, relaxing, and everything you need to rejuvenate and get refreshed to work again. We both have been vaccinated three times and felt well protected enough to travel. We would take all the same precautions in Mexico that we do in Canada. In fact, since Mexico has warm winters, we would actually be spending more time outdoors than in Canada. In Toronto, the number of cases was out of hand, so we figured we were no more at risk in PV than in Toronto. We were right and so glad we came!      
What are your favorite things to do in Vallarta? 
We absolutely love going to the shows at The Palm Cabaret, Blue Chairs rooftop, or going to Mantamar at sunset. Sometimes we enjoy just sitting at the beach at Ritmos or Mantamar. We love going to all of the many restaurants, especially our favorite Serranos. In night life our favorites are La noche, Los Amigos and Pacos Ranch.      
Where did you stay, and what else did you do? We rented a condo in Molino de Aqua. We have been visiting so many years we have done everything from ATV tours, parasailing, you name it, we've done it. Now we mainly chill and enjoy going to the beach, the pool at the condo, the restaurants, and the cabaret shows.
Did the pandemic/protocols change where you would normally go while in PV? No, not at all. We ate at our favorite restaurants, went to the shows, went to bars and beaches. We showed our vaccination proof document where required and wore masks where required.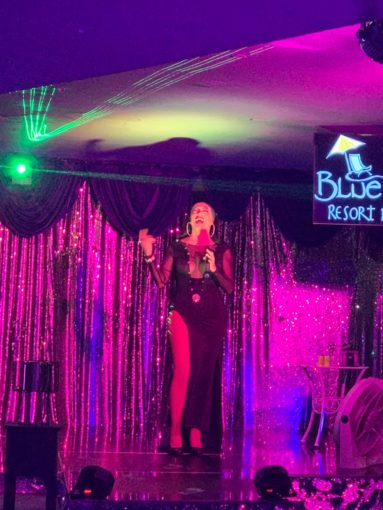 What advice do you have for a first-time gay traveler to PV? On my first trip to PV, I was fresh out of the closet and fresh from breaking up with my first boyfriend. I went to a gay travel agency and told them I wanted a gay vacation where I could meet other gay people. I was traveling alone for the first time and wanted to make friends. Luckily the travel agent said you had to go to Puerto Vallarta, Mexico. It was like entering a gay paradise. It was the gay vacation of my dreams! I met lifelong friends like Ken and had the most amazing time here. My advice to a first-timer would be to talk to people, get to know people, ask people where to go, what to do, don't be shy. Most people are friendly while on vacation, and I have always found that in PV. 
When will you be back in PV? For sure, I will be back for my winter Jan/Feb 2023 break; however, I am considering a visit this March 2022! 
Chris, you have an amazing story about Puerto Vallarta. Is there anything else you would like to tell those who are considering coming or not? Everyone has to do what's right for them, but the way I see it is that you have as much, if not more, risk of exposure in the winter in Canada as you do in PV. Life is short. Some people predict this pandemic could go for another 3-to 5 years, and I certainly can't wait that long to travel and live. I also think there is a lot of fear-mongering being done in the media about traveling.