Gay Circuit Parties WE PRIDE FESTIVAL MADRID 2018
Finally, the sky is getting brighter and it's the perfect time to announce the launching of WE Pride Festival 2018! After a long, cold winter, the sun is about to come out and with it, arrives the great event of MADRID'S PRIDE with WE Pride Festival, between the dates of 4-8.7.18!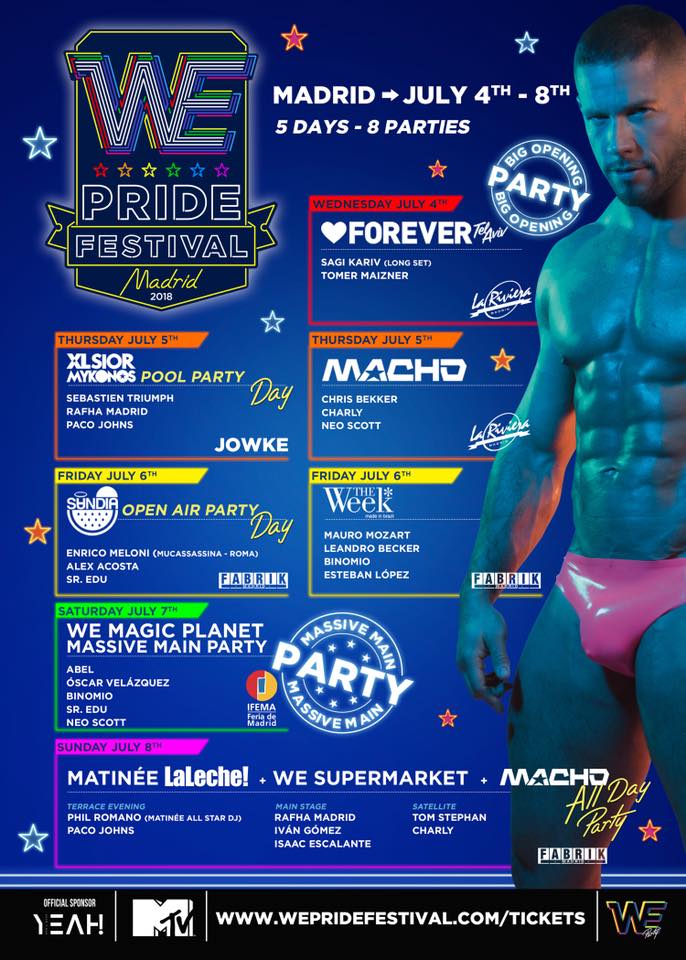 Last year, WE World Pride Festival set a very high level after the biggest pride festival we've ever had. This year, it's our challenge to bring you something even bigger, a festival that will make you understand that here, every year is World Pride J WE invite you to join us in what we do best – the biggest brands in the gay world, with the most well known DJs, gathering together in the Spanish capital, serving you the best productions in the best venues, made by the hands of WE Party. More than 40.000 fans from all corner of the world will participate in the biggest gay event of the year, experiencing once again the biggest pride worldwide.
Forever Tel Aviv will open this festival on the July 4hs with a special long-set of superstar DJ Sagi Kariv in La Riviera Club, when the next day (5/7) the magic of XLsior Mykonos will take you to a sunny pool party! Macho Party will be back by night in a special pride edition for MEN ONLY in La Riviera Club! On the July 6th, a day and night parties are waiting for you in FABRIK Club, when we'll open the day with the official refreshment of the summer – SANDIA in FABRIK Terrace. By night, and for the first time ever, THE WEEK BRAZIL will bring the Brazilian rhythm to Spain. On the day of the Pride Parade, look for the most famous WE Party float, come dance with us in the streets of Madrid and celebrate PRIDE! After this huge celebration, expect a different Massive Main Party on Saturday, July 7th. Last year we did it with WE CIRCUS with more than 15,000 fans, making it one of the biggest gay events ever made. This year, we are raising the bar and planning for you something big, something you've never seen before, something… MAGICAL with WE Magic Planet! An amazing trip through some incredible galaxies in a magical universe, in what will be a journey of a lifetime! With DJ Abel (USA), Oscar Velazquez (Mexico), Binomio (Spain), SR.Edu (Spain) and Neo Scott (Spain), in IFEMA, Feria de Madrid (Pavillon N. 6), starting 22:30H!
As every year, we are making the best production for you: 250m of LED screens and a new, innovative laser and light show will make you the feeling you're not on Planet Earth anymore! Add to this 40 dancers and a unique opening show, full with an out-of-this world decoration to make this event an unforgettable one. 500 staff members will be at your service, with the best possible transport management. And the best of all – the venue: IFEMA, Feria de Madrid, is the place where only big shows can step in, and only 15 mins away from the city center of Madrid, connected with Metro and buses lines from different points in the city.
WE MAGIC PLANET will be the event that everyone will talk about, and you want to be a part of it! Finally, on July 8th, we will close this festival in a long-day party in FABRIK Club, starting with La Leche by the hands of Matinee Group during the day, and, when the sun goes down, we say goodbye to this amazing festival and our friends from all over the word with the closing party WE SUPERMARKET – a place where you can find whatever you wish for! Don't miss your chance and purchase NOW your early-bird tickets and allaccess bracelet!
Take a look at WE Magic Planet promotional video:
See you soon in Madrid!