Puerto Vallarta has become one of the world's most recognized gay travel destinations. Gay PV Magazine has had the pleasure of seeing the Puerto Vallarta bar nightlife scene grow to become one of world's most famous travel hotspots in the world. What has made the gay life of Puerto Vallarta, Mexico so popular that many international LGBT travelers visit for the first time, repeat and then even live here? Much can be said about the incredible, ever changin bar scene in Puerto Vallarta. Puerto Vallarta has the most well developed nightlife and some of Mexico's most popular gay bars and clubs! The first bar opened more than 20 years ago and today more than 25 bars and clubs are thriving. Remember some bars open at 3pm and close around 2am each unique and all are located in the gayborhood! Here is the GAYPV guide to some popular Puerto Vallarta gay bars.
Early Bar Options (2pm until )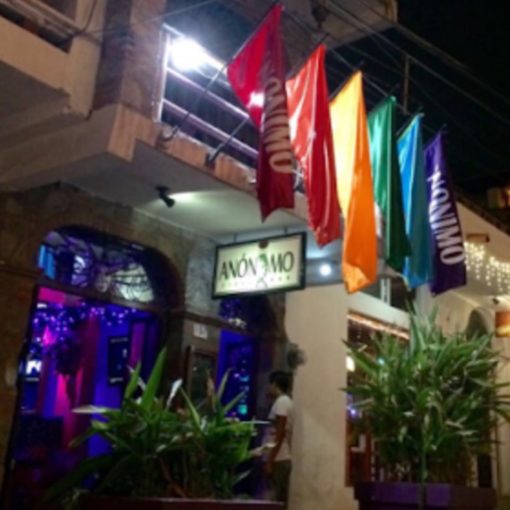 Anonimo Video Bar (ABOVE) is a fun three level bar at Rodolfo Gomez #157. This popular neighborhood bar has added an open air patio/rooftop on the 2nd floor, a 3rd floor swanky wine bar, and a sidewalk patio. Features: sexy shirtless popular bartenders, fun atmosphere and gay vibe, open air patio, weekly karoke.
Apaches Martini Bar Olas Altas #439 a real Puerto Vallarta tradition for more than 20 years. Every day the popular sidewalk bar is filled with locals enjoying great drinks and fun times. It is a super fun place to enjoy the eye canding walking from the beach back toward the hotels. Features: Open air sidewalk to people watch Olas Altas street, a Puerto Vallarta tradition for more than 20 years!
Blondies Pulpito 115 and their 2nd location Los Otros Blondies Basilio Badillo 258. The original Blondies bar opened in October 2015 in a 2 story location serving premium slushies from a granita machine. The downstairs slush bar with patio seating at the corner of Amapas and Pulpito street opens around 11am everyday as is on the walkway path to the gay beach at blue chairs hotel. The 2nd location Los Otros Blondies opened in 2019 with the popular granita slushie flavors but this location has a retail space and dressing rooms to see the popular apparel and accessories associated with the Blondies brand. Popular Features: Granita premium slushies, unique apparel clothing and accessories.
Chachalacabar Francisca Rodríguez 136 This fun new bar is located on the pier street featuring once a week drag shows and karaoke. The side is open air with a nice view to cruise anyone walking to and from the pier. Features fun vibe, strong pour drinks.
Reinas Bar Lazaro Cardenas #361. Reinas Bar is with out a doubt is the most unique gay bar in Puerto Vallarta. Owner Marco Van Groenigen created this iconic place in 2010 known to every local and a must visit for every tourist. The inside of the bar is filled with unique wall decor, British and other royal queen "reinas" portraits and the dress on the almost life size mannequin sitting on top of the bar changes daily based on Marco's mood of the day. You will find a closet that would dress any queen, make-up, hi heels, wigs, glasses, and the famous royal hats. Every night the bar is packed with locals enjoying conversation and fun times. This is a must visit for anyone visiting Puerto Vallarta. Features: Great local fun bar, unique costumes and make up.
The Swedes Bar Púlpito 154 (corner at Olas Altas Street) Since 2008, the Swedes Bar has made the corner of Amapas and Pulpito the place to be. Located 2nd floor above The Swedes Bistro Restaurant this popular bar is great for a nice evening out or a pre drink before a cabaret show at The Palm Cabaret steps away. Wednesday is Cosmo night specials! Features great upper view of Olas Altas Street, wednesday cosmo night special
The Top Bar and Restaurant located on the open air rooftop of Almar LGBT Hotel. The remarkable panoramic views of Banderas Bay from The Top Sky Bar & Restaurant are among some of their fantastic features. This bar often features weekend drag shows, cabaret style dancers, Ru Paul All Star Drag Race viewings on the big screen, and Sunday Brunches. This entertainment combined with savory gourmet dishes, a fabulous bar with top shelf selections, and the incredible view of the bay make The Top an unparalleled experience in PV. There's no other place like it! Features Open air, incredible panoramic views of the bay, flat sceen, occasional entertainment.
Mercurio Bar Francisca Rodriguez #168 located inside Hotel Mercurio. Hotel Mercurio's courtyard pool and bar ran by longtime friendly local bartender Jorge is widly popular among locals and tourists alike. Although small is size, it frequently packs big fun. This is the location of the popular Sunday Beers, Boys, and Burgers party, a T dance fun party featuring drag shows and sexy go go dancers.
Puerto Vallarta gay bars for after 9pm
La Noche Go Go Bar Lounge and Rooftop Bar Lazaro Cardenas 263. Since January 200, this is another must stop for every gay traveler to Puerto Vallarta. La Noche is a three floor bar featuring nightly drag shows and sexy go go dancers. The main level usually features several famous drag shows starting at 9pm followed by 2-4 sexy go go/pole dancers starting at midnight. The 2nd and 3rd floors are open air terraces overlooking Lazaro Cardenas street. The decor is low lights with tropical plants to produce a refreshing oasis to meet your friends. Features: Daily Drag shows and sexy go go dancers, open air terrace overlooking Lazaro Cardenas.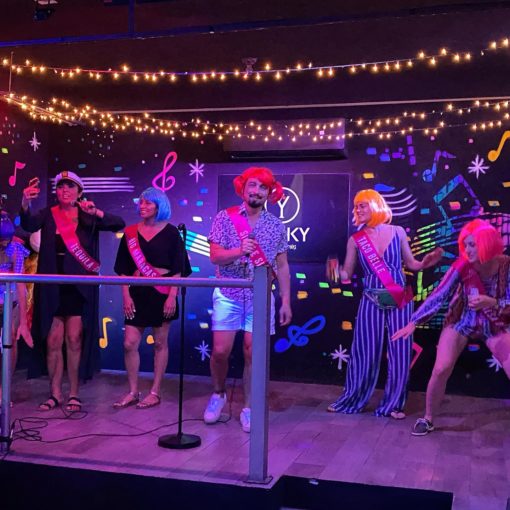 Kinky Kooky Karaoke Lázaro Cardena #315 A. If karaoke is your thing, look no further than Kinky Karaoke bar. This is a super fun bar conveniently located in the gay zone across from Wet Dreams Strip Club. The stage and sound equipment are ready for you to sing to your favorite songs. Features: Fun karaoke
Mr Flamingo corner of Lazaro Cardenas and Ignacio Vallarta. This literally is the most famous corner in Puerto Vallarta. This open atmosphere tiki bar opens early afternoon but normally gets packed with a mixed crowd dancing to popular American hits from 9pm until closing. Due to its location and popularity the bar and sidewalks in from of Mr Flamingo literally turn into a dance club later in the evening as many end their night dancing here. Features: tiki bar, mixed crowd, dance club with popular American hits.
La Margarita Cantina Lázaro Cárdenas 257. This is another popular gay bar due to its location on the gay bar strip. La Margarita opens at 2pm and generally getting busy by 8pm. The decor is a very classy Mexican glass and kaleidoscope theme.
Garbo Bar Vallarta Pulpito #142. Garbo Bar is a classy upscale Piano and Martini Bar serving Puerto Vallarta for more than 15 years. This is a fun, intimate place offering a variety of live music and entertainment.
There are some notable popular gay friendly bars to check out in Puerto Vallarta.
Signature Lounge Pinnacle Resorts (pictured above) Pulpito #180 Pinnacle Resorts has several popular sunset cocktail bars among its three properties. Signature Lounge is located inside the lobby of the Pinnacle 180, the first Pinnacle property. This has a very popular mixed crowd in a upscale infinity pool with incredible views of the bay. Enjoy the pool and swim-up bar service during the day and join us for our popular Happy Hour in the evenings.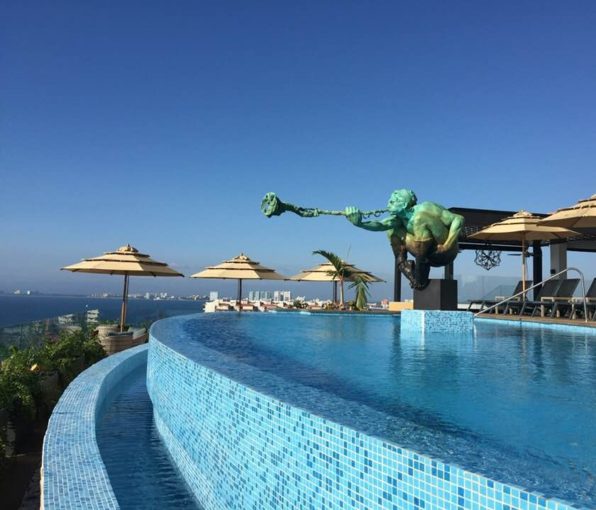 Chictini Rooftop Lounge by Pinnacle Resorts (pictured above) Pulpito #179. This is Pinnacle Resort's newest lounge opening in 2019. Chictini is an intimate space where expert mixologists create hand-crafted cocktails from top-shelf liquors, a selective wine list and our famous Pinnacle Resorts Happy Hour atmosphere. Enjoy another rooftop infinity pool with incredible ocean views.
Twisted Palms Rooftop Lounge (Pictured above) located inside Plaza Romy Calle Ignacio L. Vallarta 228-18. This classy yet unpretentious open air rooftop lounge in Old Town Puerto Vallarta serves great top drinks at reasonable prices with comfortable seating. It has a mixed crowd with a fun atmosphere with many locals enjoying old movies on the big flat screen.
To see the Puerto Vallarta gay bars- Rooftop bars visit this link.