Who doesn't love a refreshing drink with a rooftop view? Whether it's a lofty brunch with an ocean view or a sunset cocktail to cruise the gay bars, you'll find all that and more in Puerto Vallarta. Here is the GAYPV Travel Guide to the best Puerto Vallarta Gay Bars Rooftop bars.
One of the fun drag brunch cabaret shows at The Top Sky Bar Rooftop Bar.
The Top Sky Bar : With a name like that it has to be on the list, right? The Top Sky Bar is located on the rooftop of Almar LGBT Resort, Amapas 380, in the Romantic Zone. It features breakfast, lunch, and dinner with an oceanfront view facing north. It is also very close to the pier, so you get an incredible rooftop oceanfront view to watch any fireworks or photo one of Puerto Vallarta's incredible sunsets. There is also live entertainment, normally on the weekends. Enjoy a few unforgettable nights in Puerto Vallarta from the top of the terrace while you taste a delicious drink,. Try our exquisite dishes and admire the best shows, live performances and your favorite viewing party on a big screen. Life is better in The Top Bar. See the delicious food menu here.
La Noche Rooftop and Garden Terrace: The second and third floors of La Noche bar, Lázaro Cárdenas #263, is an open air garden terrace located in the gay club zone in the romantic zone. Tastefully decorated with tropical plants and lighting this rooftop bar is a wonderful open air spot to cruise who is walking into Club Industry PV and CC Slaughter's dance clubs. After you see the go go boys eye candy and the drag shows on the first floor, walk upstairs and enjoy fresh air with a city view.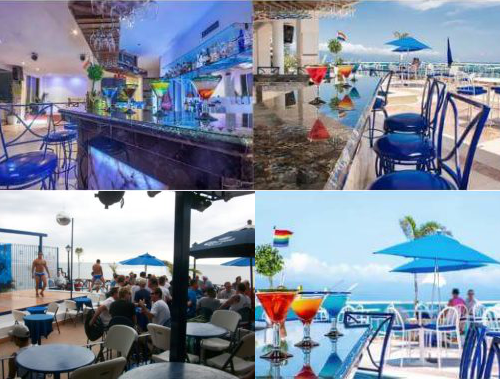 Blue Chairs Rooftop Bar: The world-famous Blue Chairs hotel has a lively rooftop bar that is full of Puerto Vallarta gay history. Back in the early 2000's this was one of the original gay hotspots on the beach and the location of the original Dirty Bitches drag show at sunset. It was recently remodeled around 2015 to add another level and dipping pool. Today it is still the popular location of early evening sunset go go boy shows.
Velas Lounge (pictured right) is located at Calle Francisco I Madero 257 above the corner Oxxo. Velas Lounge is the rooftop lounge combination of Velas Hostel A super clean hostel right in the middle of the main streets and corners of Zona Romántica in PV! From Velas Lounge you can cruise Ignacio Vallarta to see who is heading to Paco's Ranch and Mr Flamingo bars.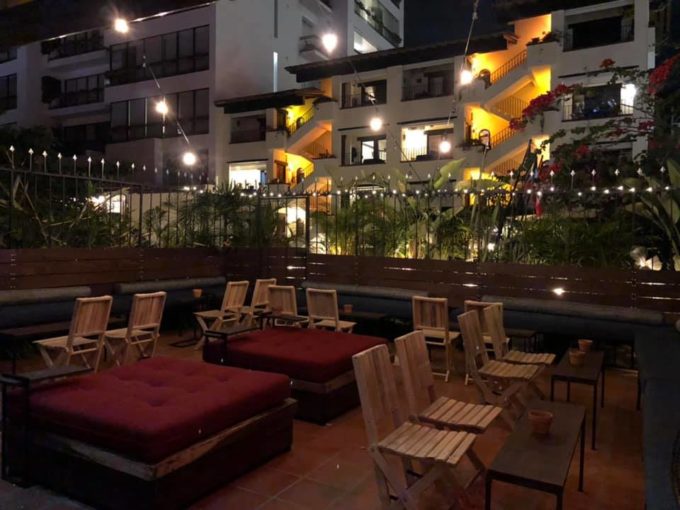 Anonimo is a three-level very popular gay bar with an open-air patio located at Rodolfo Gomez 157. The 2nd floor was added in a 2018 expansion using the rooftop of the next-door business rooftop. Anonimo is popular for video music, very friendly popular bartenders(most are always shirtless), and fun karaoke. The third floor (not rooftop) is a very swanky wine bar with a small terrace viewing the street below. There is always something for everyone at Anonimo.
Spartacus Sauna Lazaro Cardenas #240 exclusively for Gay, Bisexual and open minded men 18+. Spartacus has a beautiful palapa rooftop bar with pool for sun lovers, smokers and nude sunbathing.