GAYPV Interview Lorena Herrera Grand Marshal Puerto Vallarta Pride 2018 An exclusive interview for GayPV Magazine by Daniel Gomez H. (entrevista original en español al final de este articulo)
GAYPV: Hello Lorena, it's a pleasure to be able to talk with you again and have you back on our GayPV Magazine cover. Last time I had the opportunity to talk with you about several important issues for our LGBT community, and it has been a year since the last time, tell us how it has been this last year for you?
LORENA HERRERA: Thank you very much, I am very happy to continue supporting the LGBT community that has supported me so much. Well, it has been a great year, with the support of the community, many shows in clubs focused on the gay community and obviously giving continuity to that first single with which I returned to music. In fact it will be three years, in May, precisely, that I released "Masoquista", and it is important not to stop, to get two singles per year, we are already in the sixth single. This year I hope to get another single and continue in the public's preference, as it has been in the six songs that have worked amazing.
G: At that time you had just released the Karma song, which by the way we could see that the music video of the song was a really impressive work that we loved. Could you tell us a bit more about that video clip?
L: Well, yes, in particular of all the videos that we have made from Masoquista, also Karma I liked more than all of them, and see that it is the only video where so much skin does not come out, no men showing body or nothing of that, and really I liked it more, for the costumes, for the photography, the editing, which was a video in natural settings, it was a very mystical place, very related to the figures and the Hindu symbols that have to do precisely with Karma, which is a sanskrit word. We only took out two drag queens and had La Bogue a a guest, and it has really been the video that received the best reviews in general and more likes. The important thing is not to always fall in the same, and for the next video also something different comes. And for example with the video of "Tócame" we already fulfilled a million visits in less than two months and they are real visits, they are not bought visits like others that in two days they receive 8 million! (laughs). "Tócame" has been the most visited video so far, the funny thing is that it has been the video with the most negative reviews, so each video has been very different. I honestly am an artist who looks for the best in every video and everything I do. The slowest videos have been Freak and Karma, but Karma has been the one that has received the best reviews.
G: Something we love is that all your videos have an impeccable quality and that is something that the public appreciate very much.
L: That's something that I love about the community, that they realize the small and big details. I love that people tell me that even without a record label I'm doing quality things. It is an audience that knows about it, they are aware of the details, as in Karma, as in Plástika, where editing was a more complicated job because there was a lot of work on the green screen and people noticed it and commented it. It is a knowledgeable public and they realize all the effort behind each video.
G: We are very happy that the music video for the song "Tócame" has also had a great response. By the way, what do you think is the controversy that raised this video? Do you think it's due to the inclusion of Gomita in this video clip?
L: I think that, besides that is a video a bit more suggestive, where I show more, there is more skin, more flesh. And well, also a little to her (hahaha). I don't know, she is a very controversial girl who has many followers and also many people who express themselves not very in favor of her. It's something I still can't understand very well, because it's a girl who is very nice on the outside and inside and I do not understand why she generates that much envy maybe, but that's the way it is. I don't know why but there are people who generate a lot of hate. So is she. But well, always in my videos I like to invite one or more celebrities, or even youtubers and people of the showbusiness scene and people are waiting to see who I am going to invite to the next video. For example with Lyn May people were very happy that I had included her in the video of Freak, and that gives me great pleasure because I am the one who cast, but hey, now with Gomita was interesting, it is fun to read all the criticisms and reactions that she generated.
G: It's also fun to cause controversy, right?
L: Exactly! As I am, it is suddenly interesting to see what causes controversy, or when they talk more about your work, or if Gomita, etc. And it's fine like that. But I also wouldn't like that each video would cause only controversy.
G: And tell us just a little more about this new song "Tócame" (Touch Me).
L: Well, people who do not know my career very much (because I've been in the showbusiness for 28 years and 24 years singing), don't know that the first album I released in 1996 (it's 22 years ago) was called "Soy" (I Am). And in that first album there was a song called Los Pecados del Amor (The Sins of Love), which in particular was one of my favorites from the album. At that time it could not be much publicized because as always, I have never had a record company that is at my back, and I've been always an independent artist. So I always wanted to make that song a success, so now I decided to release that song, written by Di Carlo, De Walden and Montoro, and we put new things into it. It is a totally new version with new music arrangements of Lalo Soto and Mike Navarro and we put all that "jotería" of "touch me" and "flower cocoon". So people who didn't know my previous music thought it was a new song, and I liked that. It's like a totally 2017 remix and with new "jotería" (laughs).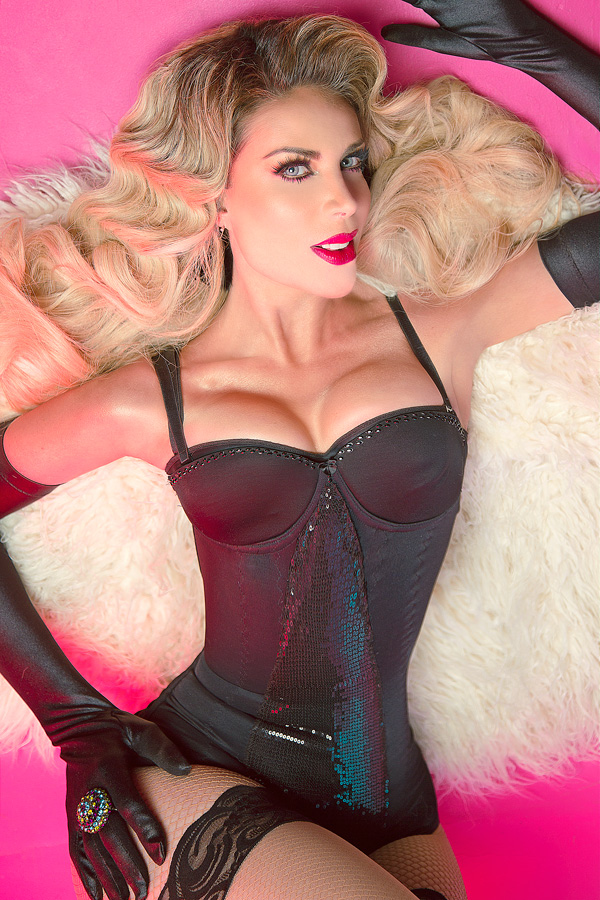 G: That's great! I didn't know this!
L: See? And my followers of more time did recognize the song, but I liked to cause the expectation of mentioning the name of the new single "Tócame" and nobody expected it to be this song, so they thought it was another unreleased song and my followers were surprised. And also although the first thing for me is to please my fans, I just wanted to please myself too with this new version of a song that I always liked that much. And fortunately it is a song that was kept for several days in the number one of downloads, which gave me great pleasure because it is not easy considering that I do not have a record company behind that supports me.
G: Of course, it is double merit! Congratulations. What new projects and surprises have you prepared for your fans, who are becoming more numerous?
L: Very good things come, many performances. As you know, I will be the Grand Marshal of Vallarta Pride Festival 2018 already in this month of May. On the 24th I will be on the parade, on the 27th I have a showcase, also an autograph signing. I will be at June 1st in San Luis Potosí, the June 16th in a super gay party in Monterrey with several artists that the gay community supports. On the 23rd I'll return to Monterrey to sing also at the LGBT Pride March of Mty, after the 27th we are in Guadalajara celebrating the Father's month, on July 7 we will be in Ciudad Juarez in another gay club … so I'll have several dates and many surprises for this season of celebration of the Gay community that has supported me so much and that I love so much.
G: You already know that the whole community loves you and support you. Tell us how was the approach for you to participate in this Vallarta Pride 2018?
L: Well, we had been trying to get it for two years, but it had not been possible before because those dates I had already been committed in other places, but this time they called me from a long time ago and we could make it, and I'm delighted because we can say that Puerto Vallarta is a very good vacation destination for the LGBT community. And for me it is so great that I have been invited and named Grand Marshal of this important Festival, because it's also a very good commite that involves people from the United States, Canada and Mexico and that's why it's one of the most important pride festivals of Mexico.
G: Have you had the opportunity to perform before in Puerto Vallarta?
L: Yes, I had already appeared before in PV but didn't have the opportunity to be part at the Pride Festival. And to be honest I am very happy with this.
G: And also the people of Puerto Vallarta are very excited about your participation! You told us that you are also coming to the city of Guadalajara soon, right?
L: Yes, we'll be there on June 27 at Twin Lions Casino, to celebrate Father's Day, but it's also an opportunity to celebrate the gay community because it's pride month.
G: Excellent, Lorena! Anything else you want to say to your fans?
L: Well, I'm still part of "Cuidate de la Cámara", a very fun tv show that is broadcasted every day and every week by Sony Entertainment and Telemundo. And remember to download all my music on all digital platforms, both the new and my previous albums, I have recorded even mexican regional music too. And I invite you to watch my YouTube channel and follow me on all my networks.
G: Well thank you very much, Lorena, it is a real pleasure to talk with you again for GayPV Magazine, and wish you to continue all the successes.
L: Thank you very much, we'll see you there at the Vallarta Pride 2018.
SPANISH / ESPAÑOL:
GAYPV: Hola Lorena, es un placer poder platicar de nuevo contigo y tenerte de nuevo en nuestra portada de GayPV Magazine. La vez pasada tuve la oportunidad de platicar contigo de varios temas importantes para nuestra comunidad LGBT, y ya ha pasado un año desde la última vez, cuéntanos como ha sido este ultimo año para ti?
LORENA HERRERA: Muchas gracias a ustedes, me da mucho gusto seguir apoyando a la comunidad lgbt que tanto me ha apoyado. Pues fíjate que ha sido un super año, con el apoyo dela comunidad, muchos shows, en antros enfocados a la comunidad gay y obviamente dándole continuidad a ese primer sencillo con el que retomé la música. De hecho ya van a ser tres años, en mayo precisamente, de que saqué Masoquista, y es importante no parar, sacar dos sencillos por año, ya vamos en el sexto sencillo. Este año espero sacar otro sencillo más y seguir en el gusto del público, como ha sido en los seis temas que han funcionado increíble.
G: En aquella ocasión acababas de lanzar el sencillo Karma, el cual por cierto pudimos ver que el video musical de la canción fue un trabajo realmente impresionante que nos encantó. Nos podrías contar un poco mas de ese videoclip?
L: Pues si, en particular de todos los videos que hemos hecho a partir de Masoquista, también a mi Karma me ha gustado más que todos, y mira que es el único video donde no sale tanta piel, no sale ningún hombre enseñando cuerpazo ni nada de eso, y realmente a mi también me ha gustado más, por los vestuarios, por la fotografía, la edición, que fue un video en escenarios naturales y eso luce muchísimo, era un lugar como muy místico, muy relacionado con las figuras y los símbolos hindúes que tienen que ver precisamente con Karma, que es una palabra sánscrita. Unicamente sacamos a dos dragas y tuvimos de invitada a La Bogue, y realmente ha sido el video que mejores críticas ha recibido en general y más likes. Lo importante es no caer siempre en lo mismo, y para el próximo video también viene algo diferente. Y por ejemplo con el video de Tócame ya cumplimos un millón de visitas en menos de dos meses y son visitas reales, no son visitas compradas como otros que en dos días reciben 8 millones (risas) porque ahora todo es comprado y asi ni te sabe y ni lo valoras. Tócame ha sido el video con mas visitas hasta ahora, lo curioso es que ha sido el video con más criticas negativas, entonces cada video ha sido muy diferente. Yo honestamente soy una artista que busca lo mejor en cada video y en todo lo que hago. Los videos más lentos han sido Freak y Karma, pero justamente Karma ha sido el que mejores críticas ha recibido.
G: Algo que nos encanta es que todos lo videos que ha sacado tienen una calidad impecable y eso es algo que como público se valora mucho.
L: Eso es algo que me encanta de la comunidad, que se dan cuenta de los pequeños y grandes detalles. Me encanta que la gente me diga que aún sin tener disquera estoy haciendo cosas de calidad. Es un público que sabe, y que se dan cuenta de los detalles, como en Karma que fue muy comentada la edición, al igual que en Plástika donde la edición era un trabajo más complicado porque hubo mucho trabajo en pantalla verde y la gente lo notó y lo comentó. Es un público conocedor y se dan cuenta de todo el esfuerzo que hay detrás de cada video.
G: Nos da mucho gusto que el video musical del tema Tócame también ha tenido una respuesta estupenda. Por cierto, a qué crees que se deba la polémica que suscitó este video? Crees que se deba a la inclusión de Gomita en este videoclip?
L: Yo pienso que si, además de que es un video un poco más sugerente, donde yo enseño más, hay más piel, mas carne. Y bueno, también un poco a ella (jajaja). No sé, ella es una chica muy polémica que tiene muchos seguidores y tambien mucha gente que se expresa no muy a favor de ella. Es algo que aún no logro comprender muy bien, porque es una chica que es muy linda por fuera y por dentro y no entiendo porqué genera como tanta envidia, pero así es el medio. No sé porqué pero así hay gente que genera mucho odio. Así es esto. Pero bueno, yo siempre en mis videos me gusta invitar a uno o dos o más personajes famosos, o incluso youtubers y gente del medio artístico y ya la gente espera a ver a quién voy a invitar al siguiente video. Por ejemplo con Lyn May la gente estaba muy contenta de que la hubiera incluido en el video de Freak, y eso me da mucho gusto porque yo soy la que arma el casting, pero bueno, ahora con Gomita estuvo interesante, es divertido leer todas las criticas y reacciones que se generan.
G: También es divertido causar polémica, no?
L: Exacto! Por como soy yo, de pronto es interesante ver lo que causa polémica, o cuando hablan más de tu trabajo, o que si Gomita, etc. Y está bien así. También me daría flojera que cada video causara solo polémica o hablen de lo que uno no quisiera que hablaran.
G: Y cuéntanos precisamente un poco más sobre esta nueva canción Tócame.
L: Mira, la gente que no conoce mucho mi carrera (porque llevo 28 años en el medio y 24 cantando), no sabe que el primer disco que saqué en 1996 (tiene 22 años) se llamaba Soy. Y en ese primer disco había una canción que se llamaba Los Pecados del Amor, que en lo particular era una de mis favoritas del disco. En ese entonces no se les pudo hacer mucha publicidad porque como siempre, nunca he tenido una disquera que esté al cien casada conmigo, y siempre ha sido una artista independiente. Así que siempre me quedé con las ganas de que esa canción fuera un éxito, entonces ahora decidí sacar esa canción que es de Di Carlo, De Walden y Montoro, y le metimos cosas nuevas. Es una versión totalmente nueva con arreglos de Lalo Soto y de Mike Navarro y le metimos toda esa jotería de "tócame" y de "flor capullo", pero realmente es una canción de hace 22 años incluída en mi primer disco "Soy". Así que la gente que no conocía mi trabajo nuevo pensaba que era una canción nueva, y eso me gustó. Es como un remix totalmente 2017 y con jotería nueva (risas).
G: Qué padre! porque yo no sabía esto!
L: Ves? Y los seguidores míos de más tiempo sí reconocieron la canción, pero me gustó causar la expectativa de mencionar el nombre del nuevo sencillo "Tócame" y nadie se esperaba que fuera a ser esta canción, así que pensaban que era otra canción inédita y mis seguidores de siempre se sorprendieron. Y además no quería quedarme con las ganas de hacerlo, porque aunque lo primero para mi es darle gusto a mis fans, pues también quería darme gusto a mí y es una canción que siempre le tuve mucha fé. Y afortunadamente es una canción que se mantuvo por varios días en los primeros lugares de descargas, lo cual me dio mucho gusto porque no es fácil teniendo en cuenta que no tengo una compañía discográfica atrás de mi apoyándome.
G: Pues claro, es doble mérito! Muchas felicidades. Y qué nuevos proyectos y sorpresas tienes preparados para tus fans, que son cada día más numerosos?
L: Vienen cosas muy buenas, vienen muchas presentaciones. Como sabes seré la Grand Marshal del Festival del Orgullo Pride Vallarta 2018 ya en este mes de Mayo, el día 24 estaré en la marcha, el 27 tengo un showcase, también una firma de autógrafos. Estaré el día primero de junio en San Luis Potosí, el 16 en una super fiesta gay en Monterrey con varios artistas que la comunidad apoya. El 23 regreso a Monterrey para cantar también en la Marcha del Orgullo LGBT de Mty, después el 27 estamos en Guadalajara celebrando el mes del Padre, el 7 de julio estaremos en Ciudad Juárez en otro antro gay… entonces tendremos varias fechas durante los meses de mayo, junio y julio y muchas sorpresas para esta temporada de celebración de la comunidad Gay que tanto me ha apoyado y que yo tanto amo.
G: Ya sabes que toda la comunidad te amamos y te apoyamos. Y cuéntanos cómo se dio este acercamiento para que participaras en este Festival del Orgullo Vallarta Pride 2018?
L: Pues fíjate que ya llevábamos dos años tratando de que se diera, pero no se había podido concretar antes porque pasaba que esas fechas ya las tenía comprometidas en otros lugares, pero esta vez me llamaron desde mucho tiempo antes y la pudimos concretar, y yo encantada porque podemos decir que Puerto Vallarta es un destino vacacional de los más fuertes para la comunidad LGBT. Y para mí es un orgullo que me hayan invitado y que me hayan nombrado Grand Marshal de este Festival tan importante, porque además es una gran organización que involucra gente de Estados Unidos, de Canadá y de México y por eso es uno de los más importantes de la República.
G: Ya habías tenido oportunidad de presentarte antes en Puerto Vallarta?
L: Sí, ya me había presentado antes en PV pero no había tenido oportunidad de presentarme en el Pride. Y la verdad que estoy muy contenta con esto.
G: Y la gente de Puerto Vallarta también está muy emocionada con tu participación. Nos platicabas que vienes también a la ciudad de Guadalajara pronto, verdad?
L: Si, estaremos por allá el 27 de junio en el Casino Twin Lions, para celebrar el día del Padre, pero también es una oportunidad para celebrar a la comunidad gay porque es el mes del Orgullo.
G: Excelente, Lorena! Algo más que quieras agregar para tus fans?
L: Pues que seguimos en el programa Cuidate de la Cámara, un programa muy divertido que se transmite todos los días y todas las semanas por Sony Entertainment y por Telemundo. Que descarguen toda mi música en todas las plataformas digitales, tanto la nueva como mis discos anteriores, tengo música hasta grupera también. Y los invito a que vean mi canal de YouTube y me sigan en todas mis redes.
G: Pues muchas gracias, Lorena, es un verdadero placer volver a platicar contigo, y que sigan los éxitos.
L: Muchas gracias a ustedes, por ahí nos vemos en el Vallarta Pride 2018.