[fusion_builder_container hundred_percent="no" equal_height_columns="no" menu_anchor="" hide_on_mobile="small-visibility,medium-visibility,large-visibility" class="" id="" background_color="" background_image="" background_position="center center" background_repeat="no-repeat" fade="no" background_parallax="none" parallax_speed="0.3″ video_mp4="" video_webm="" video_ogv="" video_url="" video_aspect_ratio="16:9″ video_loop="yes" video_mute="yes" overlay_color="" video_preview_image="" border_size="" border_color="" border_style="solid" padding_top="" padding_bottom="" padding_left="" padding_right="" admin_toggled="no"][fusion_builder_row][fusion_builder_column type="1_1″ type="1_1″ layout="1_1″ background_position="left top" background_color="" border_size="" border_color="" border_style="solid" border_position="all" spacing="yes" background_image="" background_repeat="no-repeat" padding_top="" padding_right="" padding_bottom="" padding_left="" margin_top="0px" margin_bottom="0px" class="" id="" animation_type="" animation_speed="0.3″ animation_direction="left" hide_on_mobile="small-visibility,medium-visibility,large-visibility" center_content="no" last="true" min_height="" hover_type="none" link="" first="true"][fusion_imageframe image_id="41465|full" max_width="" style_type="" blur="" stylecolor="" hover_type="none" bordersize="" bordercolor="" borderradius="" align="none" lightbox="no" gallery_id="" lightbox_image="" lightbox_image_id="" alt="" link="" linktarget="_self" hide_on_mobile="small-visibility,medium-visibility,large-visibility" class="" id="" animation_type="" animation_direction="left" animation_speed="0.3″ animation_offset="" filter_hue="0″ filter_saturation="100″ filter_brightness="100″ filter_contrast="100″ filter_invert="0″ filter_sepia="0″ filter_opacity="100″ filter_blur="0″ filter_hue_hover="0″ filter_saturation_hover="100″ filter_brightness_hover="100″ filter_contrast_hover="100″ filter_invert_hover="0″ filter_sepia_hover="0″ filter_opacity_hover="100″ filter_blur_hover="0″]https://gaypv.com/wp-content/uploads/2020/09/Marc-Lopez-Crooners-ACT2PV-show-events.jpg[/fusion_imageframe][fusion_separator style_type="none" sep_color="" border_size="25″ icon="fa-american-sign-language-interpreting fas" icon_size="" icon_circle="" icon_circle_color="" alignment="center" hide_on_mobile="small-visibility,medium-visibility,large-visibility" class="" id="" top_margin="20″ bottom_margin="20″ /][fusion_text columns="" column_min_width="" column_spacing="" rule_style="default" rule_size="" rule_color="" hide_on_mobile="small-visibility,medium-visibility,large-visibility" class="" id="" animation_type="" animation_direction="left" animation_speed="0.3″ animation_offset=""]
Act2pv Puerto Vallarta is getting ready to run the show again. This unique entertainment complex is following strict guidelines and sanitary protocols like seat reservation, new air systems and limiting their occupancy to a maximum of 40%.
This time we had the joy of interviewing Marc López, one of Puerto Vallarta and Mexico´s promising voices. He has been in the music indutry since the age of 20 and is now working on his youtube channel.
For Marc the music has higher purposes and his ultimate goal is using the power of music and singing as a healing therapy. Read the full interview and let us know if you cant wait to come to Puerto Vallarta and listen Marc Live!
Tickets will be available by Mid October on ACT2PV official website
You can follow Marc on Instagram as @MARCLOPEZCROONER
Marc tell us where you are from and what from your childhood influenced your music career? I'm from Obregón Sonora, midsize city in the northwest side of Mexico. I have amazing parents and I'm the baby from six siblings; we use to be a very musical family and since I was a kid, I remember there was music playing all day long at home. Both of my parents are very good amateur singers and so I think I have this passion for music in my blood.
When I was 7 y/o, one of my sisters caught me singing outloud and she was amazed and surprised by my voice in tune. So she encouraged me to learn songs and keep listening to music.  I began to study and practice music when I was a teenager; started with guitar, drums and singing lessons and began to participate at schools festivals.
By the age of 20 I started as a professional working as a singer in one of the most important bands of the north of mexico and we were traveling a lot playing at the most high class private events. My parents always supported me in the music field but they also asked me to study a professional career; I got chemical engineer degree and actually I payed my studies by singing during weekends. 
I worked as a chemical engineer but found out that my real passion was music.  By the age of 27, I moved to Guadalajara and I got hired by one big company, owners of many most famous and recognized bars around the country in many cities; so I became one of the main singers of that company, singing in Guadalajara, Mexico City and San Luis Potosí. Since then on I realized that I could live fully through my passion.
How did you make it to Puerto Vallarta? Puerto Vallarta have always been my favorite destination for holidays. I met Danny Mininni when he was starting with Act2 and developing the great company it is now. So we kept always in touch and talking about the possibilities of working together, and for many years I visualized myself living and working here. So, when the stars were aligned I foud a way to move here and we started working and creating the concepts for my shows right away.
Many destinations, even in the US,  are not fortunate to have live theatre as we are in Puerto Vallarta. What does this opportunity mean to you? Puerto Vallarta means a huge exposure and an open door to the world for all the theater performers; it represents a  very important transition in my career, now entertaining totally using my second language, which it was a big step and challenge for me.
What shows will you be doing this season? This season I will have three shows.  "Crooners", a beautiful, classy, elegant, romantic but fun show, full of memories, emotions, energy and the best songs of the good all times, featuring music from Frank Sinatra, Michael Buble, Jersey Boys, Tom Jones and many more.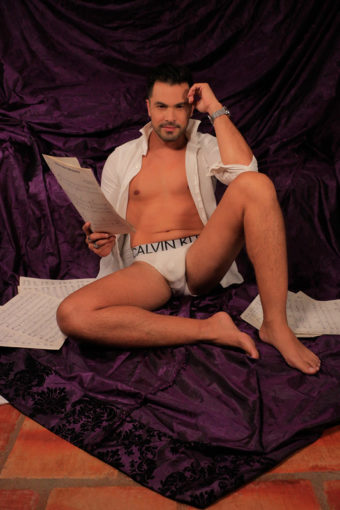 How did you choose the performers for Crooners? I always choose the songs I really love and that connects with my soul and my spirit; fortunately, my vocal range allows me to sing whatever I want and I pick up those that represents a challenge, either vocal, emotional or both.
"The best of Broadway", four singers performing this great assemble with the most iconic songs from the musicals; costumes, dancing, energy, talent, harmonies, duets, solos… a refreshing broadway review experience! 
"Elvis, young and sexy", it will be a time travel to this part of The King's  career, a journey about his beggings, putting my own stile, not impersonating; just me singing my favorite Elvis songs and giving to my audience a new, sexy and fresh concept of rock and roll, ballads and the huge legacy that this legend represents to the world. 
How do you visualize yourself in the future? Talking about how I visualize myself in the future, I could say that I just see myself enjoying life, music, people, traveling around the world. I don't know how it is gonna happen, the only thing I know is that today, I feel grateful, confident, in peace, joyful, successful and accepting every single miracle life brings to me. So now my philosophy is about letting life and miracles to find me, because life always brings better things than the ones we were specting for. So I'm open to an unlimited universe of possibilities and adventures.
What do you enjoy doing when not performing? My hobbies are playing basketball, hiking, exploring rivers and chasing waterfalls, the beach, photography, rollerblades, watching sunsets, a glass of wine, nice dinners, hang out with friends to the bars, and the main one… self actualization, like listening to audios, reading books, assisting to conferences, seminars, etc, in order be more sensitive and understand my emotions and the voice of intuition, learning how to reconnect with my inner power, my spirituality, my true self, my inner light.
In some point of my career I will bring all this knowledge to my audiences, I will use the power of music and singing to help others to heal their emotions and reach a higher level of awareness and consciousness.
What can audiences expect to see and hear at your shows? So, for the people who is willing to come and see my shows, they will not only get a good voice, pretty face or sexy body; they will get my story, my real essence, my emotions, my peace, my energy and the joyful way I found to live my life.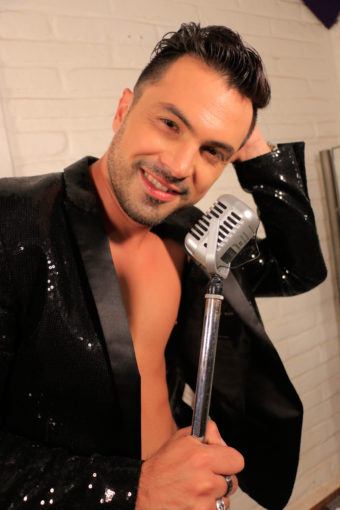 [/fusion_text][/fusion_builder_column][/fusion_builder_row][/fusion_builder_container]