Hi Aaron, Thank you for taking the time to talk to us at GAYPV. We know that you are now one of Andrew Christian's newest Mexico ambassadors.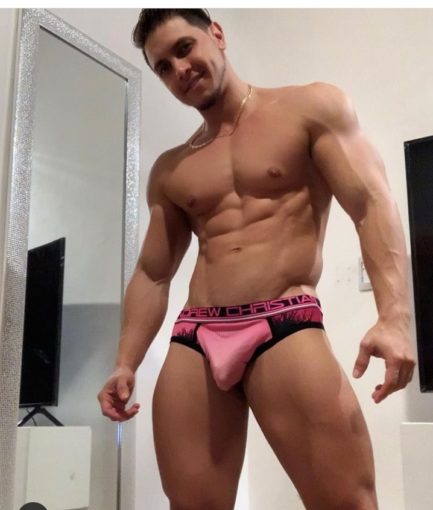 Tell us how you met Andrew and what it's like to be one of his ambassadors. My best regards to all GAYPV readers. I met Andrew Christian dancing on an event but before that we had talked on social media networks about being his brand ambassador here in Mexico.
Here is what Andrew Christian had to say regarding choosing Aaron as an ambassador. "I strive to find the best guys with the most amazing personalities from all around the world to represent the brand and connect to local fans. Mexico is a beautiful country full of life and it's important for me to bring that kind of energy with me to these events. The models love to travel so when there's an opportunity I'm more than happy to get them involved. We've built a lot of trust over the past couple of years doing events with Aaron and he has proven that he has what it takes to represent the Andrew Christian brand."
What is your favorite Andrew Christian's underwear style? I like black boxers with outstanding details. They really have a lot of variety.
What do you want the followers of Andrew Christian about you? Well … more than just a model of the Brand I am a normal person like everyone else with my normal daily routine and hard workout; I tend to be an entrepreneur in some projects. I love my family and tranquility.
How can you contribute to Andrew Christian's brand? Well, the brand has a lot already there but on my part I could contribute with a jovial and fitness image. We could look for a niche market under fitness and workout through my image. Andrew Christian's could focuse his brand on a specific fitness niche.
Where are you from? How old are you? I am from Caracas Venezuela. My age… hahaha I look younger than I am, but I'm 31 years old.
How did you decide to come to Puerto Vallarta? I came here for the first time on vacation. The second time I came as a model at the Marriot Hotel. More recently 4 years later I came to dance for the White Party as a Gogo dancer.
What do you think about PV? I love Puerto Vallarta! Everything is so calm and close by here. I have always lived in big cities and big citys are a chaos.
What are your favorite things to do here? Puerto Vallarta has many places to visit and see. My favorite thing to do is seeing how beautiful Puerto Vallarta can be from high points.
What would you like to achieve in your career? I would like to continue advancing as a model for Andrew Christian brand and be more than an ambassador. Also I am entering into bodybuilding competitions. So far I have had good results so I hope to continue in that.
What would you like to be doing in 10 years? I think in less time … I would love to have my own business and to travel to many places in the world.
Tell us in which competitions have you participated? And which ones have you won? I was participating on the Vizcaya Cup in Tepic, but although I prepared very well I didn't win. I also participated in WFF World Fitness Federation in Puerto Vallarta and with only a two-day preparation I got the third place in the Sport Model Master category.
What are your training guidelines? Train daily at least 1 hour 30 minutes. Eat 6 times a day. Importantly, I don't eat more calories than I can't burn in a day.
Are you considering a relationship? If so, describe your ideal partner. And if not, why? A relationship … that is a complicated subject. Relationships simply occur, that's my opinion. I don't have a stereotype for a partner. My ideal partner would have to have the same focus on life as I do, patient as I am not an easy person to live with. I can appreciate many things in a person.
Where can men see you in Puerto Vallarta? Currently, I dance at Club 69 in Puerto Vallarta. I like to dance and perform. It's a job and a hobby that I like very much.
What is your favorite sport? I like baseball. Although my favorite hobby is working out and going to the gym.
Do you have a hidden talent or your fantasy? No hidden fantasy really. I always show what I can do wherever I go.
What would be your favorite place and your ideal way to vacation? I don't have a favorite one but I'd love to meet many beautiful places in Europe. I think it's a great culture and has many spectacular places.
My social networks are: Aaroncaracas in all mediums. You can look for me and see more of me there.
Hola Aaron, gracias por tomarte el tiempo para platicar con nosotros para la Revista GAYPV. Sabemos que ahora eres uno de los embajadores de Andrew Christian.
Cuéntanos cómo conociste a Andrew y qué significa ser uno de sus embajadores. Mis saludos para todos los que nos leen. Conocí a Andrew Christian en un evento bailando, pero antes ya habíamos hablado por redes sociales para ser embajador de su marca aquí en México, que es donde resido actualmente.
¿Cuál es tu estilo favorito de ropa interior de Andrew Christian? Me gustan los boxers negros con detalles sobresalientes. Tienen en verdad mucha variedad.
¿Qué quieres que los seguidores de Andrew Christian sepan de ti? Bueno… que más que un modelo de la marca, soy una persona común como todos con mi rutina de trabajo y de ejercicios arduos; suelo ser emprendedor en algunas cosas, no me gusta lo rutinario y me encanta lo familiar y la tranquilidad.
¿Qué puedes aportar a la marca Andrew Christian? La marca realmente ya tiene mucho hecho, pero de mi parte podría aportar una imagen jovial y fitness; podríamos buscar un nicho de mercado de ejercicios y rutinas a través de mi imagen y que esas personas puedan usar la marca Andrew Christian enfocándose en su lado deportivo.
¿De dónde eres? ¿Cuántos años tienes? Soy de Caracas Venezuela. Sobre la edad…hahaha aparento mucho menos de lo que tengo. Pero realmente tengo 31 años.
Cómo fue que llegaste a Puerto Vallarta? Vine por primera vez de vacaciones. La segunda vez vine a hacer publicidad como modelo al Hotel Marriot. 4 años después llegué a bailar para la WP como gogo dancer.
¿Qué opinas sobre PV? Me encanta Puerto Vallarta! todo es tranquilo y cerca. Siempre he vivido en grandes ciudades y son un caos.
Cuáles son tus cosas favoritas para hacer aquí? Puerto Vallarta tiene muchos sitios para visitar y ver desde lo alto lo hermoso que es Puerto Vallarta. Me encanta la vista desde los puntos más altos, eso es mi cosa favorita de Puerto Vallarta.
Qué te gustaría lograr en tu carrera? Me gustaría seguir avanzando como modelo de la marca Andrew Christian y ser más que un embajador. Además estoy entrando en el mundo del Fisicoculturismo en donde he obtenido buenos resultado y en lo cual espero lograr una carrera nueva.
Qué te gustaría estar haciendo en 10 años? Creo que en menos tiempo… me encantaría ya tener mi propio negocio y poder conocer muchos lugares del mundo.
Cuéntanos ¿en qué competencias has participado? ¿y en cuáles has ganado? Estuve en la Copa Vizcaya en Tepic participando, y aunque me preparé muy bien, no logre obtener algún lugar. Luego participé en Puerto Vallarta en el WFF World Fitness Federation, y con una preparación de sólo dos días llegué a obtener un tercer lugar en la categoría Sport Model Master.
¿Cuáles son tus pautas de entrenamiento? Entrenar a diario mínimo 1 hora 30 minutos. Comer 6 veces al día. Y no comer más calorías de las que puedo quemar en un día.
Estás considerando una relación? Si es así, describe a tu pareja ideal. ¿Y si no, porqué? Una relación… wow es un tema un poco complicado. Las relaciones se dan solas, esa es realmente mi opinión al respecto. Tampoco tengo un estereotipo para una pareja. Pero en todo caso me gustaría tener una que tenga el mismo enfoco en la vida que yo, y que me tenga mucha paciencia porque no soy una persona fácil de llevar. Pero sé valorar muchas cosas de las personas.
Podrías mencionar en dónde trabajas y dónde los hombres pueden verte? Trabajo bailando en el Club 69 en Puerto Vallarta. Me gusta bailar, hacer show y demostrar ese trabajo y hobby que me gusta.
Cuál es tu deporte favorito? Me gusta el béisbol. Aunque mi deporte favorito es el ejercicio y el gym hahahha…
Cuál es tu talento oculto o tu fantasía? Realmente ninguno oculto. Siempre demuestro lo que sé hacer donde quiera que vaya.
Cuál sería tu lugar favorito y tu forma ideal para vacacionar? No tengo uno favorito. Pero me encantaría conocer muchos lugares hermosos que tiene Europa. Creo que su cultura es espectacular y me encantaría conocer algunos lugares grandiosos de esa región.
Mis redes sociales son Aaroncaracas en todas las redes. Pueden buscarme y ver más de mi ahí.